04.01.2023
HAMEE 2022 Member Gathering: DAT Group joins hands in building a green and sustainable economy
On December 29, 2022, DAT Group participated in the annual year-end member gathering program of the Ho Chi Minh City Mechanical – Electrical Enterprises Association (HAMEE) as a Diamond Sponsor. With significant contributions, DAT Group was likened to a 'comet' that connects and supports the sustainable development of many member enterprises.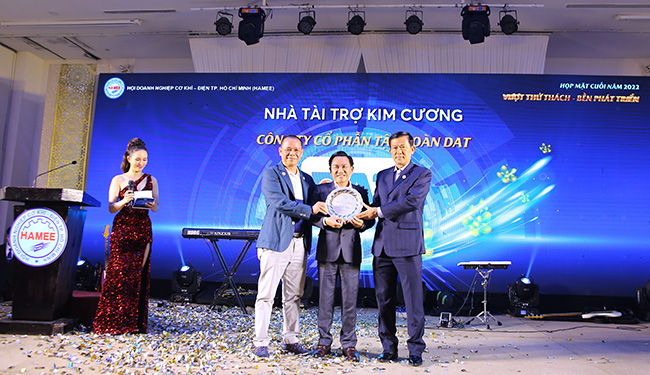 HAMEE Member Gathering is an annual event aimed at fostering the shared enthusiasm and collective aspirations of each member enterprise to effectively support each other's activities, contributing to  socio-economic development of country and aiming for a modern, high-reaching Vietnam industry that expands into global market. This year's program consisted of 2 sessions: Session 1 was a seminar on "Overcoming Challenges – Sustainable Development," and Session 2 was the Member Gathering.
Participating as a speaker in Session 1, Mr. Tieu Van Dat – DAT Group's Gereral Director engaged in a dialogue with fellow HAMEE member entrepreneurs on theme of "Overcoming Challenges – Sustainable Development."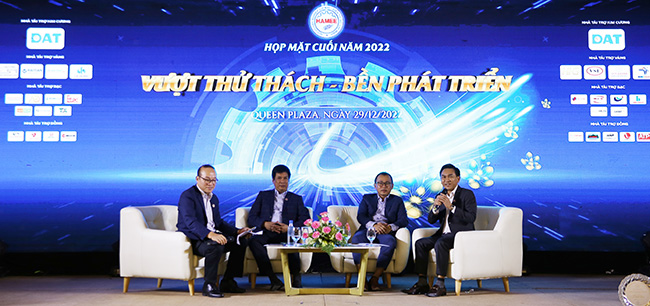 In addition to sharing insights into preparation needed to overcome the challenges of today's global economy, DAT Group's General Director also expressed desire to work hand in hand with HAMEE member enterprises in actively controlling input equipment, reducing reliance on foreign experts to control costs and operate efficiently, and enhancing competitive advantages in both domestic and international markets.
"Based on the Government's commitment to achieve net zero emissions by 2050, DAT Group continues to invest in renewable energy to bring positive impacts to the community and society," Mr. Tieu Van Dat further explained about DAT Group's development direction.
As part of the event, DAT Group was the sole exhibitor showcasing products and solutions from its core business areas. The showcased automation solutions included: INVT DA200 Servo, INVT DL310 Servo, SIMATIC S7-1500T PLC, V90 Servo Drive, SIMATIC HMI Unified Comfort Screen… which received significant attention from participating enterprises.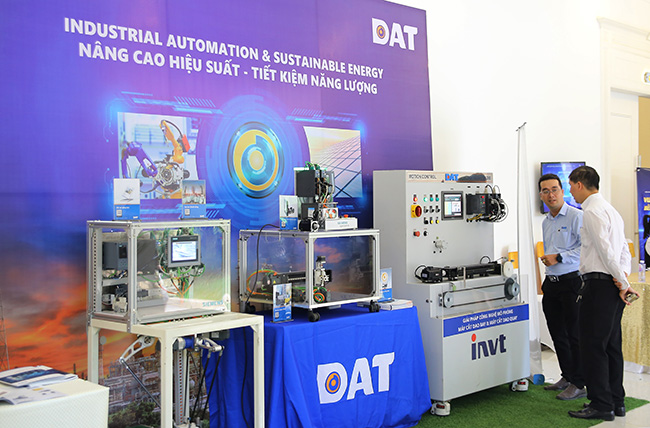 Pursuing the goal of becoming a leading technology, trade, and service conglomerate in the fields of industrial automation and renewable energy in Vietnam, DAT Group is investing in expanding a comprehensive ecosystem and is committed to being a reliable companion in sharing benefits and responsibilities with HAMEE member enterprises, to jointly contribute to making Vietnam stronger and building a "green and sustainable" economy.