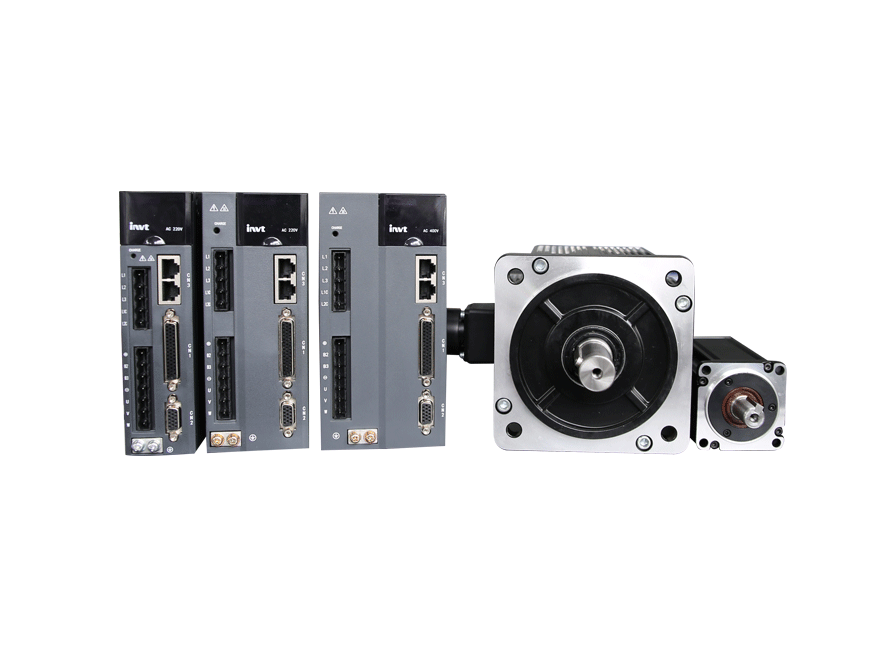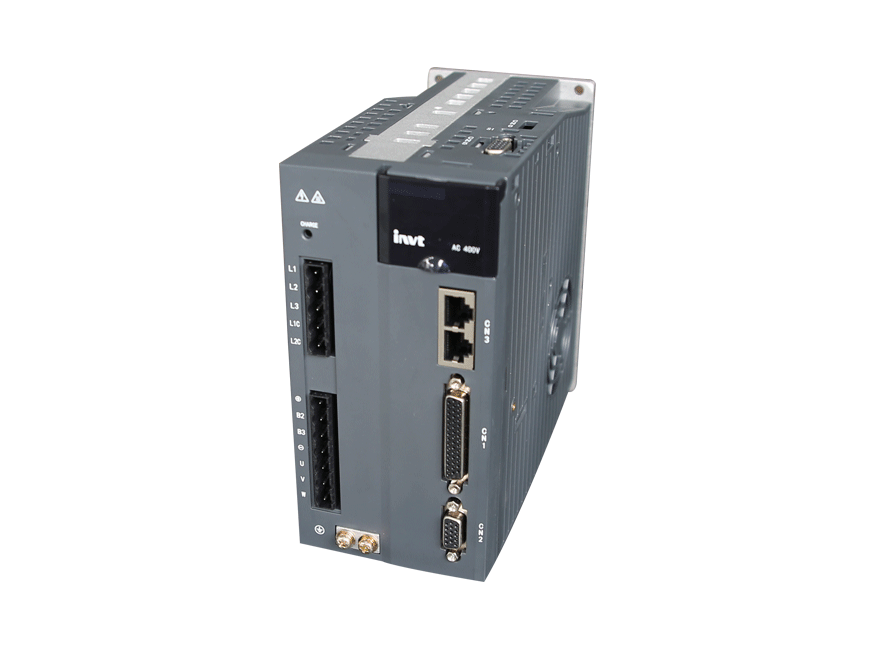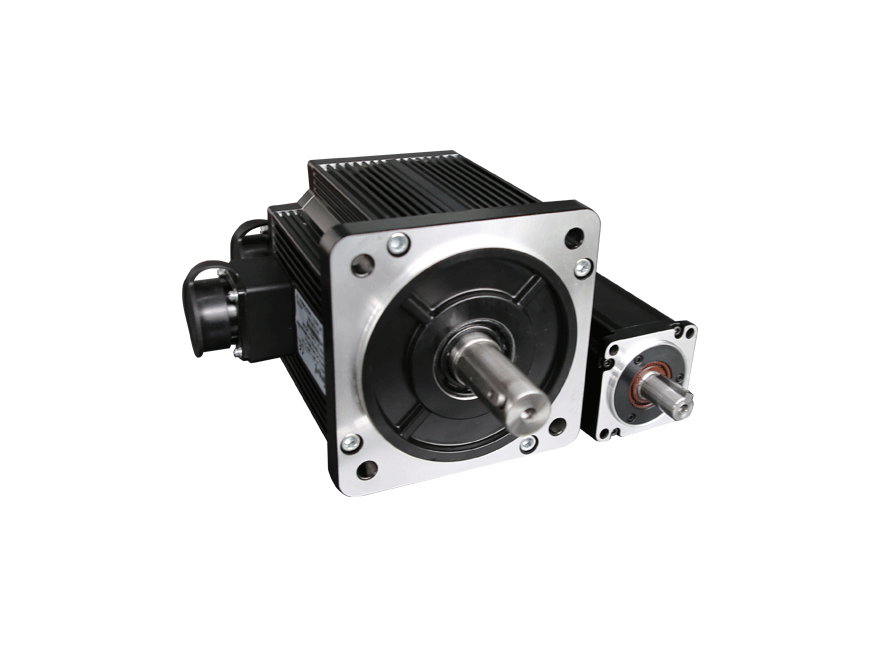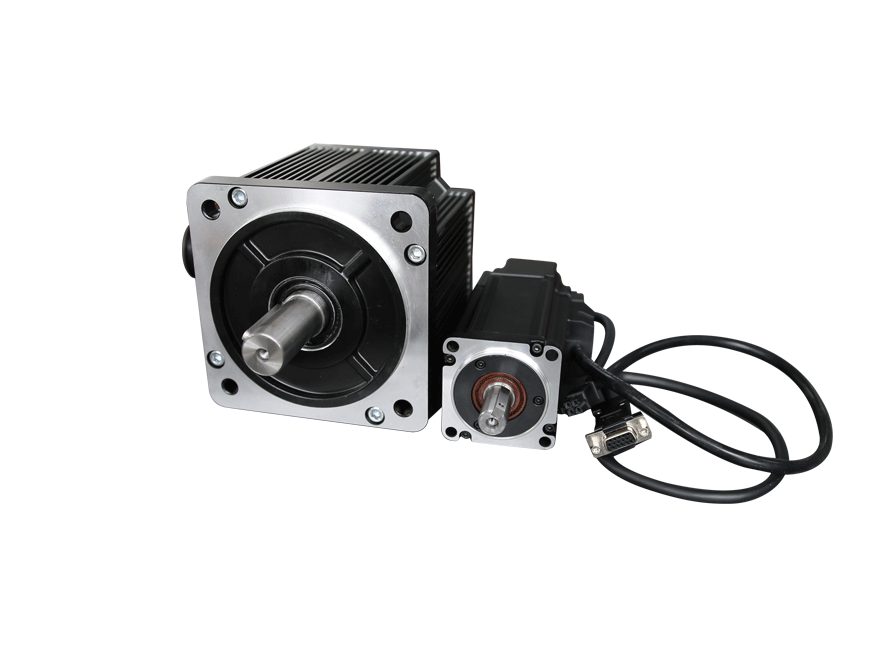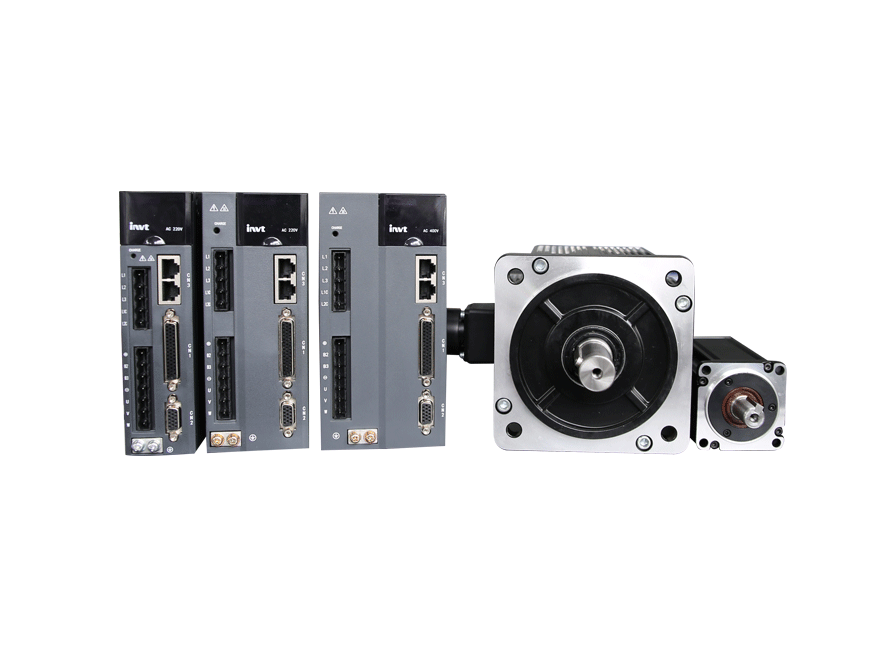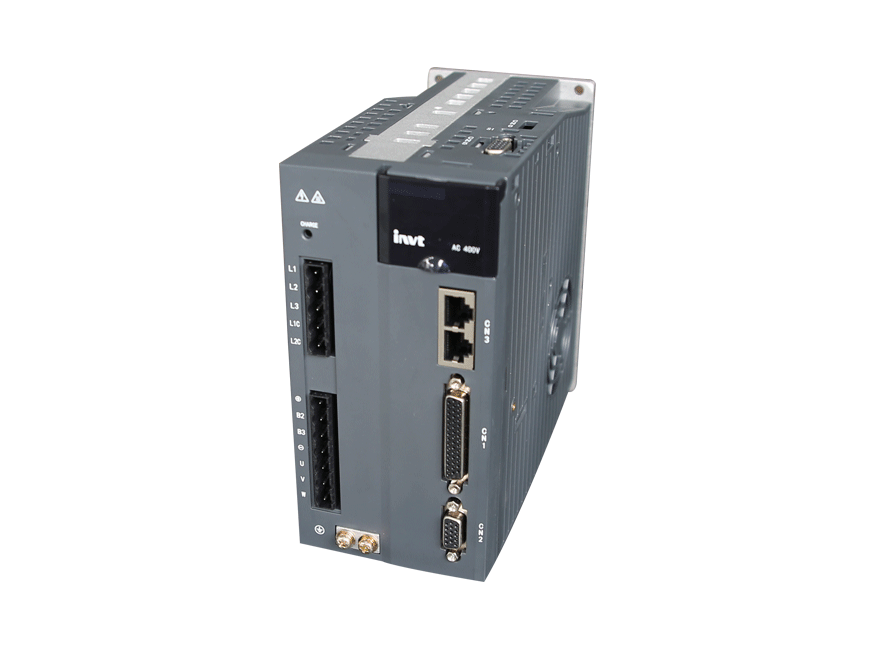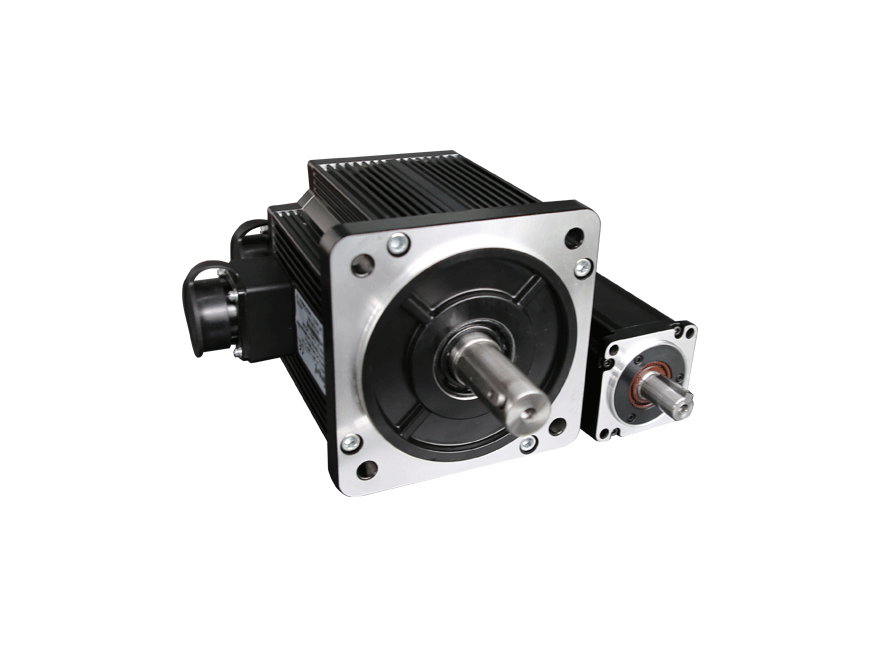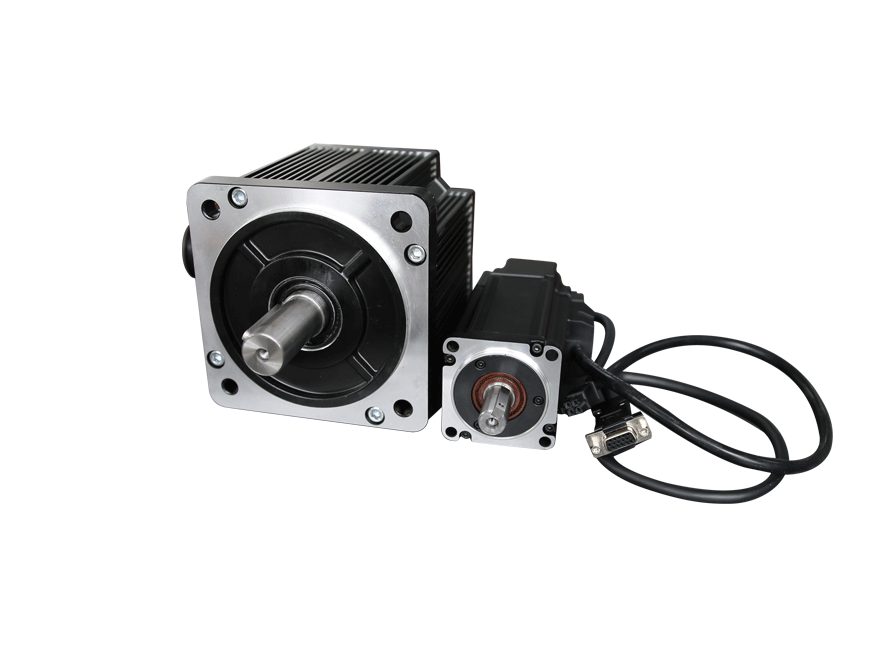 SV – DA200 – Servo Drives
INVT takes users upgrade as the starting point and does its utmost to build the industry star products to meet the industry market and user needs. Leading control performance combined with industry needs only for stimulating the perfect integration of servo systems and application environments.
Free delivery within Ha Noi, Ho Chi Minh, Can Tho
Free installation
| | |
| --- | --- |
| Brand: INVT | Warranty: 18 Months |
Power Supply

Drives capacity

Drives model

Motor Type

Moment/
Rated speed

Single Phase /
3 Phase
220 VAC

200 W

SV-DA200-0R2-2-1R

SV-ML06-0R2G-2-1A0

0.64Nm/3000rpm

400 W

SV-DA200-0R4-2-1R

SV-ML06-0R4G-2-1A0

1.27Nm/3000rpm

750 W

SV-DA200-0R7-2-1R

SV-ML08-0R7G-2-1A0

2.4Nm/3000rpm

SV-ML08-1R0G-2-1A0

3.2Nm/3000rpm

3 Phase
220 VAC

1.0 kW

SV-DA200-1R0-2-1R

SV-MM13-1R0F-2-1A0

5Nm/2500rpm

1.5 kW

SV-DA200-1R5-2-1R

SV-MM13-1R5F-2-1A0

7.7Nm/2500rpm

2.0 kW

SV-DA200-2R0-2-1R

SV-MM13-2R0F-2-1A0

10Nm/2500rpm

SV-MM13-2R3B-2-1A0

15Nm/1500rpm

3.0 kW

SV-DA200-3R0-2-1R

SV-MM18-3R0B-2-1A0

19Nm/1500rpm

4.4 kW

SV-DA200-4R4-2-1R

SV-MM18-4R4B-2-1A0

27Nm/1500rpm

3 Phase
380 VAC

1.0 kW

SV-DA200-1R0-4-1R

SV-MM18-1R0F-4-1A0

5Nm/2500rpm

1.5 kW

SV-DA200-1R5-4-1R

SV-MM13-1R5F-4-1A0

7.7Nm/2500rpm

2.0 kW

SV-DA200-2R0-4-1R

SV-MM13-2R0F-4-1A0

10Nm/2500rpm

SV-MM13-2R3B-4-1A0

15Nm/1500rpm

3.0 kW

SV-DA200-3R0-4-1R

SV-MM18-3R0B-2-1A0

19Nm/1500rpm

4.4 kW

SV-DA200-4R4-4-1R

SV-MM18-4R4B-4-1A0

27Nm/1500rpm

5.5 kW

SV-DA200-5R5-4-1R

SV-MM18-5R5B-4-1A0

35Nm/1500rpm

10.000+
Customers Nationwide

15+
Year Of Experiences

3000+
Warehouse Area Above 3000 m² Is Always Available Items That Help Customers Fast Project Progress

24h
24 Hours To Complete All Processes, Procedure Is Quick And Flexible
Superior product performance
Industry-leading speed response: speed response frequency up to 2.0kHz, which has significantly improved the processing speed, shorten the adjusting time to maximize the high-end mechanical performance;
Excellent positioning accuracy: supporting 23-bit high-resolution encoder, enhancing the accuracy of 64 times compared with ordinary 17-bit encoder;
Complete products, rich power section: covering 0.1kW-22kW, wide application of equipment;
Rich and practical features
Full closed-loop control: support the encoder or grating scale installed in the external load side, achieve full closed-loop control, reduce the impact of mechanical transmission backlash to enhance the machine terminal positioning accuracy;
Internal position control: Achieve 128-position internal position control via input terminal command combination (external I / O or bus control). For simple motion control, simplify the PLC unit and optimize the user external configuration through the internal simple program design;
Electronic cam function: Cam profile up to 1000 points; curve between the two points can complete automatic smooth difference to make the mechanical operation more smoothly; ServoPlorer software supports cam planning and setting function, which is suitable for flying shear, chasing and other master and slave applications occasion.
Rich communication interface: support Modbus, CANopen, PROFIBUS-DP, EtherCAT, Motionnet and other bus communication protocols, achieve long-distance, multi-axis high-speed synchronous control via networking.
Load inertia identification: it has on-line and off-line two inertia identification mode, automatically identify the system internal gain parameters, and shorten the system adjusting time.
Intelligent
Automatic / manual notch filter:
Equipped with a simple automatic setting notch filter function, it can automatically detect vibration without cumbersome vibration frequency measurement, and set the notch filter to significantly reduce the sound and vibration produced by mechanical equipment;
Equipped with four notch filters, each set frequency of 50 ~ 5000Hz, each can adjust the depth (of which two can be automatically set);
Low frequency vibration suppression: through a special low-frequency vibration suppression algorithm, effectively overcome the low-frequency mechanical resonance and inhibit the end vibration phenomenon of long swing arm mechanism;
Gantry synchronization function: no need for complex PC control, the controller self-synchronous control, the smooth realization of two-axis alignment and two-axis synchronization follow function. When the position deviation exceeds the set allowable value, a warning will be issued to stop the system from running;
Disturbance suppression function: Compensate the impacts of load disturbance and parameter changes to the control performance, increase the system robustness, and significantly improve the follow-up performance of the command;
Friction Torque Compensation Function: Reduce the effect of static friction during motor commutation and improve instruction follow performance at low speed.
Easy gain adjustment and gain switching: Automatically adjust the speed loop, position loop gain and filter time constant through the rigid level setting, effectively reduce the debugging difficulty. Support two sets of gain settings, though I / O input, communication or internal variable gain switching to meet the flexible needs of technical process;
Speed observer: effectively reduce the impact of noise signals, improve command tracking performance.