01.07.2022
DAT actively shared experiences with 300 businesses in program "Taking Steps Towards Mission – Conquering Summit"
On June 22, 2022, DAT participated in program 'Taking Steps Towards Mission – Conquering Summit,' organized by Ho Chi Minh City Mechanical – Electrical Business Association (HAMEE) at Tan Son Nhat Pavillon Hotel.
Event was attended by representatives of municipal authorities, Ministry, Ho Chi Minh City Business Association (HUBA), VCCI branch in Ho Chi Minh City, as well as 300 business leaders who are association members and members of media.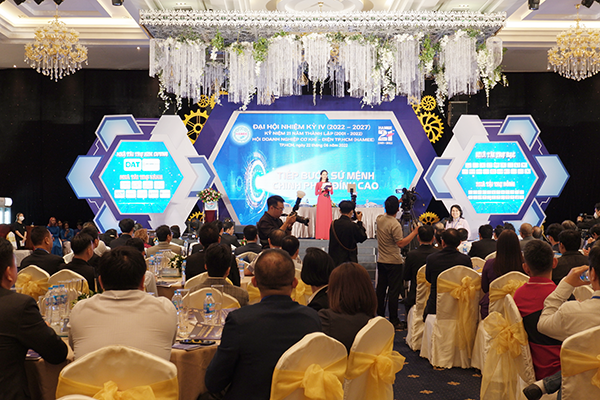 After more than 2 years of economic impact from COVID-19 pandemic, businesses in Vietnam are gradually recovering, stabilizing, and enhancing their business activities, expanding market reach. Therefore, program 'Taking Steps Towards Mission – Conquering Summit' is an opportunity for HAMEE association member businesses to meet, exchange, and collaborate to jointly achieve sustainable development, aiming for a modern, high-reaching, and global market-oriented Vietnamese industry. Recognizing significance of this, DAT decided to become a Diamond Sponsor for this event.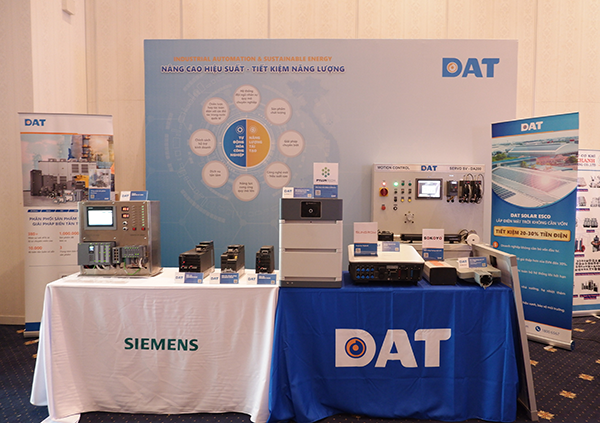 During the program, DAT showcased successful automation and renewable energy products and solutions that have benefited over 10,000 customers nationwide.
In the field of automation, customers showed particular interest in products and solutions such as Servo DA200 ECAM demonstration for controlling rotary blade cutting machines, Siemens SIMATIC S7-1500 PLC demonstration, Siemens SINAMICS VFDs: G120, G120C, and G120X; Siemens SINAMICS G120 drive controllers; Siemens IOP-2 displays, among others. These products and solutions will help businesses increase operational productivity, ensure stability, facilitate motor speed control, enhance motor lifespan, and reduce maintenance costs.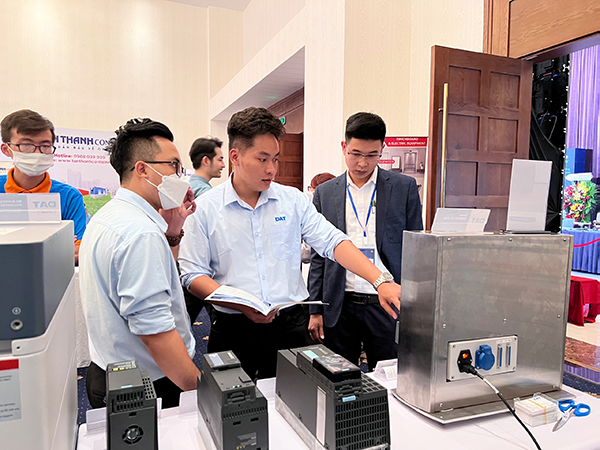 Regarding renewable energy sector, DAT introduced quality products including Sokoyo solar energy lamps of Split Type LUMO 60W series for smart urban lighting applications; Lithium Pylontech battery storage systems of Force H series for solar energy projects with storage capabilities; Sungrow Hybrid Inverters of RT 10kW series, which help investors enhance business efficiency, save electricity, and reduce production and operational costs.
Within framework of the event, leadership team of DAT visited the display booths of member businesses. This allowed for mutual understanding, learning, strengthening of long-lasting connections. With over 16 years of experience within the value ecosystem, DAT shared valuable information for the development of the business community.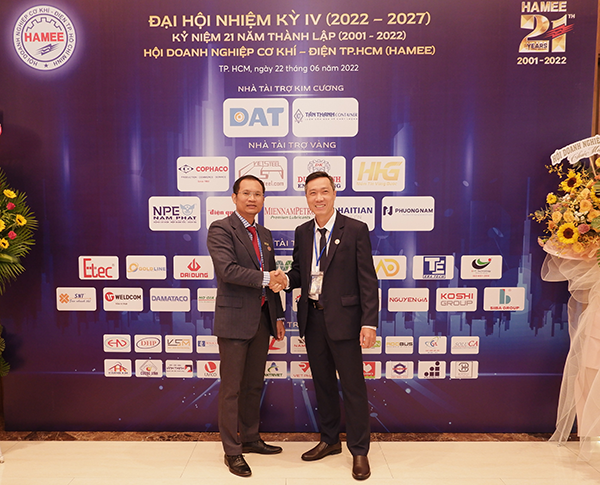 In the coming period, DAT will continue to pursue the goal of becoming a leading conglomerate in Vietnam market in the fields of automation and renewable energy. Simultaneously, DAT attaches its brand image to community activities, enhances social responsibility, and focuses on environmental protection and conservation of natural resources for the country.
DAT is committed to expanding comprehensive cooperation with international partners and establishing an R&D Center to research and update the full spectrum of new technological trends, aiming to increase efficiency and provide optimal value to customers across various industries throughout the country. For specialized solution consultation with high economic efficiency, please contact the toll-free Hotline 1800 6567 or visit the website  www.dattech.com.vn.