13.09.2022
DAT collaborates with BENELIFTS ASIA to organize a specialized workshop on topic "Perfect Duo: EC3000 Series Electrical Cabinet and ITG Series Towing Machine."
With desire to provide comprehensive solutions that better meet requirements for safety, convenience, and luxury in elevator projects, DAT and Benelifts Asia collaborated to organize a specialized workshop titled 'Perfect Duo: EC3000 Series Electrical Cabinet and ITG Series Towing Machine' at ParkRoyal Saigon on September 15, 2022.
Currently, an increasing number of key projects such as terminals, airports, ports, etc., are being invested and implemented in Vietnam to synchronize infrastructure and keep up with the pace of urbanization. This opens up a potential market for elevator equipment. However, alongside opportunities come challenges, as rising quality of life demands higher elevator standards to meet user needs.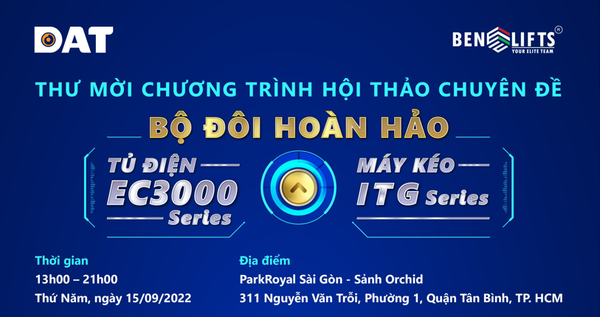 Recognizing this trend, DAT and Benelifts Asia decided to collaborate in distributing a pair of European-origin products capable of meeting strict standards in high-end elevator projects. This partnership helps customers enhance their reputation and increase business efficiency in the market.
In order to help customers better understand advantages of using this product duo, specialized workshop "Perfect Duo: EC3000 Series Electrical Cabinet and ITG Series Towing Machine" was organized by DAT and Benelifts Asia, focusing on following valuable information:
PROGRAM CONTENT
Advantages of using Italian Top Gears towing machines
Guide to ITG series towing machine and EC3000 series electrical cabinet
Cooperation and support policies from DAT and Benelifts Asia
Special incentives for attendees of the workshop
Discussion and Minigame
During the event, experienced engineering teams from DAT and Benelifts Asia will thoroughly address any questions, provide dedicated documentation for customers, and offer hands-on guidance on the actual equipment. All of these efforts aim to help customers easily master the system, quickly apply EC3000 series electrical cabinet and ITG series towing machine to elevator projects, and deliver a perfect user experience.
Additionally, attendees of the program will have opportunity to receive valuable gifts from minigame.

For any inquiries about the program, customers are encouraged to contact the Hotline at 1800 6567 (toll-free) for prompt assistance.