20.12.2018
DAT has achieved Excellent Distributor Award from INVT for 8 consecutive years
From December 15th to December 19th, 2018, INVT Global Partners Conference 2018 was held in Shenzhen City, Guangdong Province, China. The event was attended by over 200 domestic distributors and more than 50 prominent partners from 30 countries around the world.
During conference, DAT was honored to receive "Overseas Sales Champion" award from INVT for outstanding business performance. This prestigious award is given by INVT to overseas partners who have achieved top business results in 2018, and this marks 8th consecutive year that DAT has been recognized as an excellent distributor of INVT products.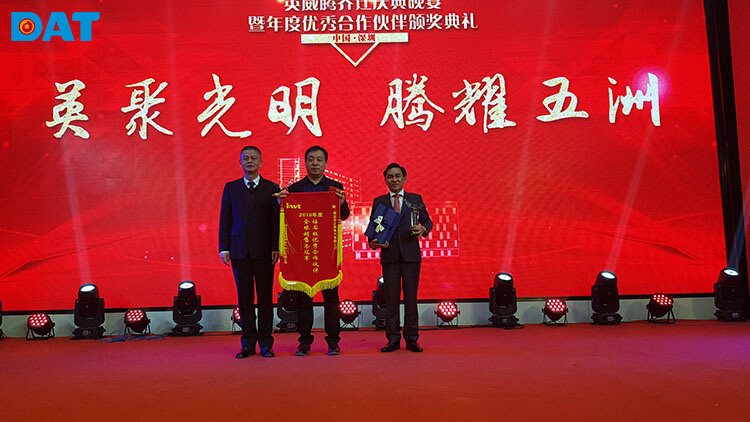 INVT Global Partners Conference is an annual event that aims to review business activities, honor outstanding product distributors, and set strategic business directions for INVT in upcoming year.
"Best Distributor" award presented by INVT holds significant importance as it acknowledges DAT's sustainable and remarkable development throughout 2018. With a commitment to quality products, services, and resources, DAT has confidently overcome challenges and remained at forefront in Automation, Elevator Control, and Solar Energy sectors.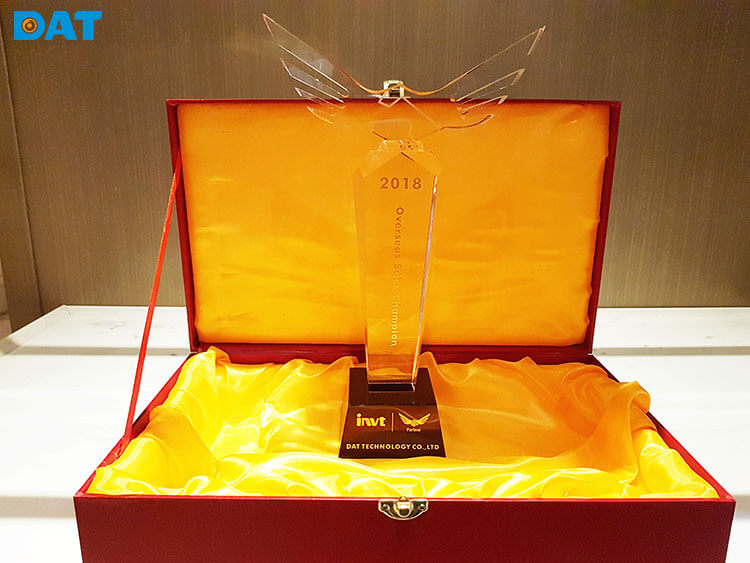 Mr. Tieu Van Dat, Director of DAT, shared, "This award not only recognizes DAT's efforts in 2018 but also signifies our comprehensive growth in product systems, services, and quality of our team over 12 years of establishment and development. In 2018, we expanded our workforce to over 140 employees, established a DAT branch and service center in Hanoi, extended business partnerships nationwide, enhanced automation solutions, and improved service quality. In 2019, DAT will continue to collaborate with international partners to provide high-quality products, solutions, and leading professional services in the fields of VFDs, elevator control, and solar energy in Vietnam.".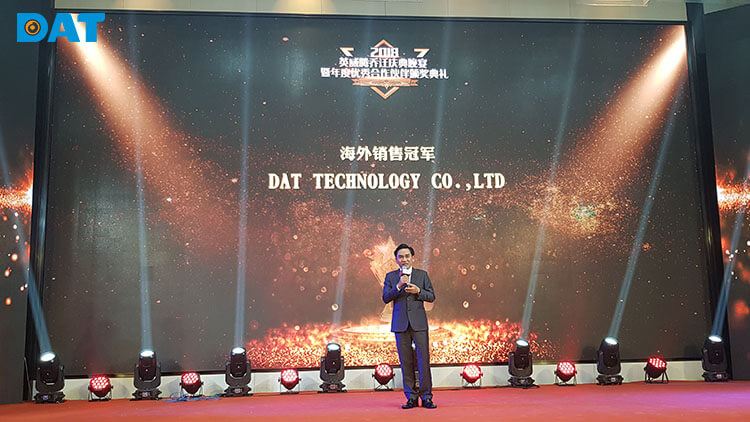 Furthermore, INVT organized a workshop with theme "Leaving Behind Past, Marching Toward Future," introducing innovative product lines and reaffirming their commitment to continuously improving product quality and services to meet customer needs and strengthen sustainable development partnerships.
During Strategic Partners Forum for international partners on December 17th, 2018, INVT outlined its business strategy for 2019, shared experiences, presented case studies on VFD applications in Ukraine, and discussed current business survival strategies.
Demonstrating a collaborative development spirit, participating partners also proposed strategies to support INVT in achieving its vision of becoming a reputable and leading global provider of industrial automation and electrical energy products and services.
In this event, DAT's Board of Directors engaged in discussions and exchanged strategies for important product developments with INVT's leadership. INVT highly valued DAT's proposals for improving product quality and developing new technological solutions to optimize customer satisfaction.
With over 12 years of development and 8 consecutive years of recognition as an outstanding product distributor by INVT, DAT has made steady progress on its path to becoming top VFD provider in Vietnam. Alongside high-quality products and solutions, professional services, core value of "Integrity" in business has played a crucial role in DAT's success over past 12 years and will continue to drive sustainable growth in future.
Here are some additional images from INVT Global Partners Conference 2018: