06.06.2022
As a token of gratitude to our customers, DAT offers free on-site maintenance and servicing
In order to express gratitude to our valued customers and fulfill our commitment to continuously provide outstanding services, DAT has decided to launch the program "FREE ON-SITE MAINTENANCE AND SERVICING" for all factories and manufacturing facilities nationwide, from June 6th, 2022 to December 31st, 2022.
With over 17 years of pioneering experience in creating efficiency-enhancing ecosystems for customers, DAT currently possesses a highly qualified workforce, specialized solutions, superior services, large-scale supply capabilities, and comprehensive cooperative relationships with international partners. Thanks to our strong internal capabilities, DAT has earned and continues to enjoy the unwavering trust and steadfast partnership of over 10,000 customers nationwide.
To maintain our leading and distinctive position in the market, DAT is further committed to generating even more useful value for customers through the implementation of the "FREE ON-SITE MAINTENANCE AND SERVICING" program, featuring the following outstanding advantages:
Program Content:    
DAT will carry out free maintenance, servicing, measurement, and operational status checks, update software, and provide cleaning for all products such as VFDs, servos, PLCs, HMIs, etc. from INVT and Siemens, as well as offer guidance for other brands at customers' premises.
Upon completion, DAT will provide detailed reports and recommendations for usage, replacement, and repairs (if necessary) to customers.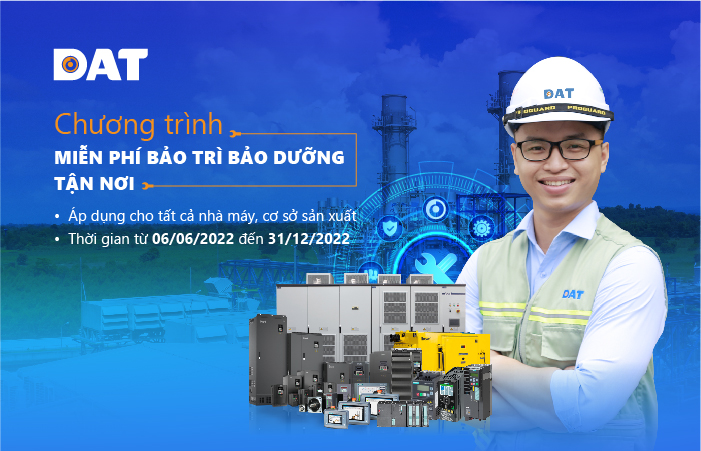 Customer Benefits:
Receive maintenance and servicing for INVT and Siemens devices and control cabinets at no cost.
Receive recommendations in case of improper usage or operational issues that may potentially affect production, allowing customers to have backup plans.
Receive guidance on identifying and handling common issues.
Receive advice from DAT's experienced experts and engineers on solutions to save energy and enhance production efficiency.
Applicable Audience: All factories and manufacturing facilities.
Duration: From June 6th, 2022 to December 31st, 2022.
Applicable Scope:
Southern Region: Priority given to Ho Chi Minh City, Binh Duong, Dong Nai, Long An.
Northern Region: Hanoi, Bac Ninh.
June – December: Southern Region (priority given to Ho Chi Minh City, Binh Duong, Dong Nai, Long An).
August – December: Hanoi, Bac Ninh.
Once customers register, DAT's Technical Department will promptly get in touch, arrange appointments, and provide on-site maintenance and servicing at customers' factories or manufacturing facilities.