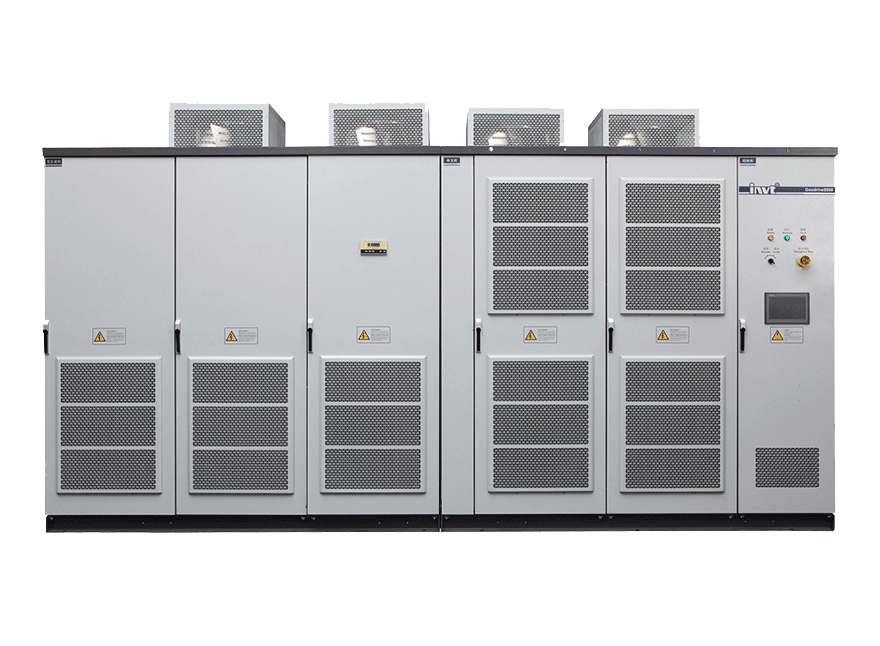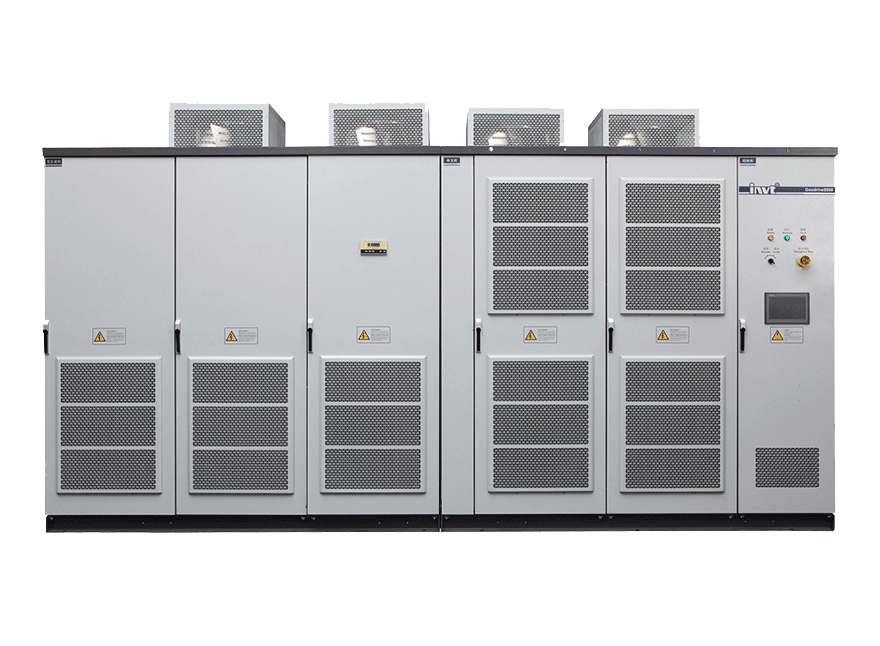 GD5000 Series Medium Voltage Vector Inverter
Goodrive5000 series VFD is the lasted version medium voltage VFD, designed and manufactured by INVT, this products use latest technology, widely used in heavy industries in worldwide, such as Russia, India, Africa, Middle East, and Europe.
Free delivery within Ha Noi, Ho Chi Minh, Can Tho
Free installation
| | |
| --- | --- |
| Brand: INVT | Warranty: 16 Months |
3kV
3.3kV
6kV
6.6kV
10kV
11kV
Input
Voltage Level
3PH AC
3kV
3.3kV
6kV
6.6kV
10kV
11kV
Input voltage
– 15 %    ~  + 10 %
Input frequency
50/60 Hz ± 5%
Input power factor
≥ 0.97 (Full load)
System efficiency
≥ 96% (Full load)
Input current harmonic
≦2%, meet IEC standards of IEEE519~1992 and GB/T14519~93
Quality of electric energy supply-Harmonics in public supply network.
Output
Output voltage
0 ~ 3kV
0 ~ 3.3kV
0 ~ 6kV
0 ~ 6.6kV
0 ~ 10kV
0 ~ 11k V
Output current
0 – 216 A
0 – 219 A
0 – 216 A
0 – 219 A
0 – 205A
0 – 223A
Output capacity
0 – 1120kVA
0 – 1250kVA
0 – 2240kVA
0 – 3550kVA
0 – 3550kVA
0 – 4250kVA
Effective output capacity
0 – 900kW
0 – 1000kW
0 – 1800kW
0 – 2000kW
0 – 2800kW
0 – 3350kW
Output frequency
0 ~ 120Hz
Output current harmonic
≦2 %
Control performanc
Control mode

Vector control without PG, V/F control ,Vector control with PG

Control system
DSP, FPGA, ARM
HMI
10 inch touch screen
Speed range
1:50 (S V P W M), 1:100 (Open loop vector)
Speed control precision
± 1% (SVPWM), ± 0.4% (Open loop vector)
Torque response
<  200 ms
Starting torque
1 5 0 % of the rated torque
Overload capacity
120% of the rated current: 2 mins

150% of the rated current: 5 s

200% of the rated current: protect immediately

ACC/DEC time
0 – 3600s, customized
I/0
Digital input
16 channels digital input
Digital output
20 channels relay output
Analog input
3 channels: AI1, AI2: 0~10V/4~20mA; AI3: -10V~10V
Analog output
4 channels: AO1, AO2, AO3, AO4: 0~10V/4~20mA
High speed pulse input
1 channel: Input range 0~50kHz
High speed pulse output
1 channel: Output range 0~50kHz
Communication method
Modbus (RS485), Tự chọn:  Profibus –DP, Ethernet
Protection function
System
Overcurrent, overvoltage, undervoltage, motor overload, inverter overload, input phase loss, output phase loss
Overheating, temperature controller fault, communication fault, access fault, uplink communication fault, downlink communication fault, fan overheating
Unit
Optical fiber uplink communication fault, optical fiber downlink communication fault, overvoltage, undervoltage, power supply overheating, input phase loss, VCE fault, bypass failure
Others
Installation method
Cabinet mounting
Protection degree
IP30
Tiếng ồn
≤75dB
Feed in and out method
Bottom in and out; other methods are optional
Cooling
Forced-air cooling
Control power supply
AC 380V±10%
M T B F
100000 h
Temperature of running environment
-5℃~+40℃, derate 1.5% for every additional 1℃ if the temperature is above 40 ℃ and the maximum temperature is 50℃; run without load if the temperature reaches 60℃.
Altitude
Below 1000m; derate 1% for every additional 100m if the sea level is above 1000m.
Storage
Keep away from dust, direct sunlight, flammable or corrosive gas, oil, steam or vibration.
Vibration
2~9Hz displacement 3mm;
9~20Hz ACC 9.8m/s2;
20~55Hz ACC 2m/s2;
55~200Hz ACC 1m/s2

8000+
Customers Nationwide

15+
Year Of Experiences

3000+
Warehouse Area Above 3000 m² Is Always Available Items That Help Customers Fast Project Progress

24h
24 Hours To Complete All Processes, Procedure Is Quick And Flexible
Feature 1: Three Control modes
1, High performance V/F control. (Fans, Pumps, Air compressors, etc).
2, Open loop vector control. (Belt conveyer, mill drive, fibrizer crusher, etc.)
3, Close loop vector.  (Applicable to internal mixer, hoister machine, etc.)
Feature 2:Multiple types of motor drives
Support Asynchronous motors
Synchronous motors (Include PM synchronous motors)
Feature 3:Four-Quadrant Drive
Power units use IGBT for rectification, dual energy flow, energy saving and environmental protection.
With full rated power energy regenerative ability.
Feature 4:LVRT Low Voltage ride through
Wide voltage anti-interference capability. The system has AVR function for stable system output when the bus voltage fluctuates frequently.
No stop when instantaneous power off, during running, the system will not stop after power off in the set time. Can be set when power off 0-5s.
Feature 5:Full Brand Speed Tracking
Accurate tracking in the current rotating speed and direction of the motor without installing speed sensor
Automatic starting when power off in the set time
Feature 6:Multiple unit bypass modes
The same level bypass, when one unit is invalid, bypass it and continue to run
Neutral point drifting bypass, CPU smart calculate to ensure output stable and balance
Feature 7:Excellent Low Frequency Control
Advanced dead area compensation technology, good low frequency waveforms; Optimized algorithm of low frequency oscillation suppression, no motor resonance
Feature 8:Master-slave control mode
Multi-motor drive system, realize multi-motor coordination control and obtain power balance.
Flexible grid connection, support 1 VFD drive more motors.
Optical loop connection, max support 16 motors in master-slave system.
Feature 9:Heat Dispersion Simulation
With advanced heat simulation technology, high reliable structure design for heat dispersion.
System and cabinet use unique air flue, reduce dust accumulation.
PCB/PCBA duel sides covered with conformal coatings, excellent corrosive property to raise IP level.