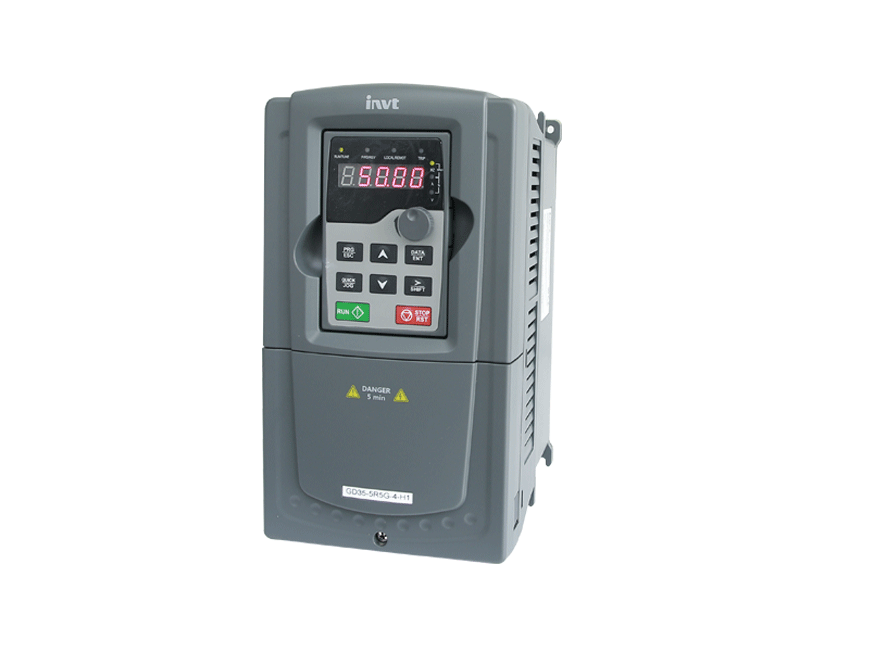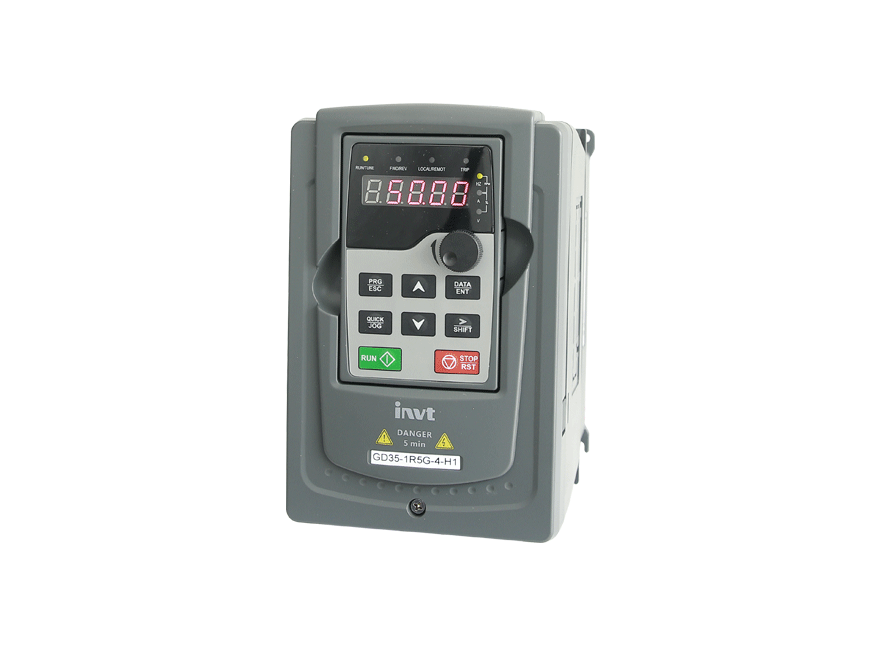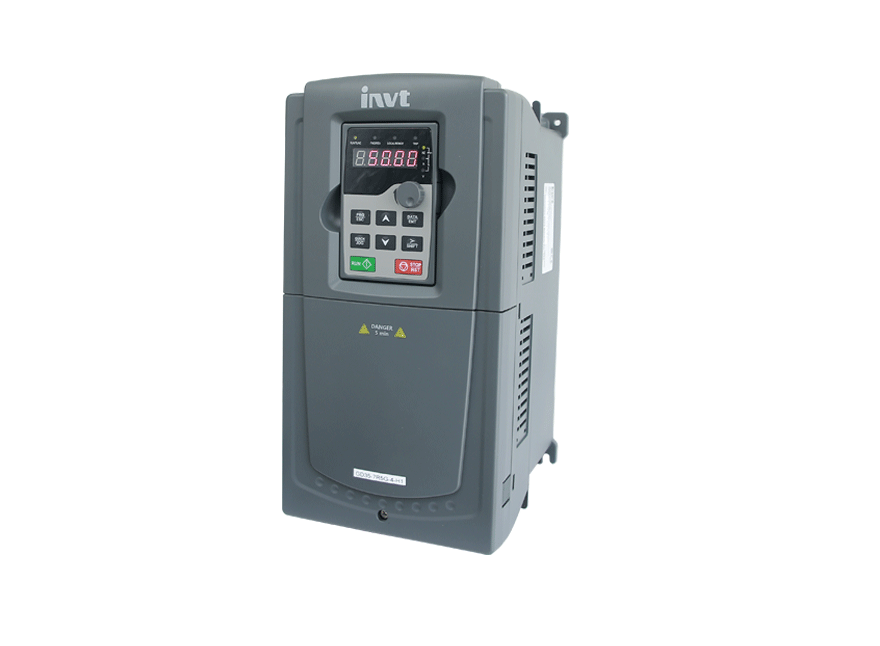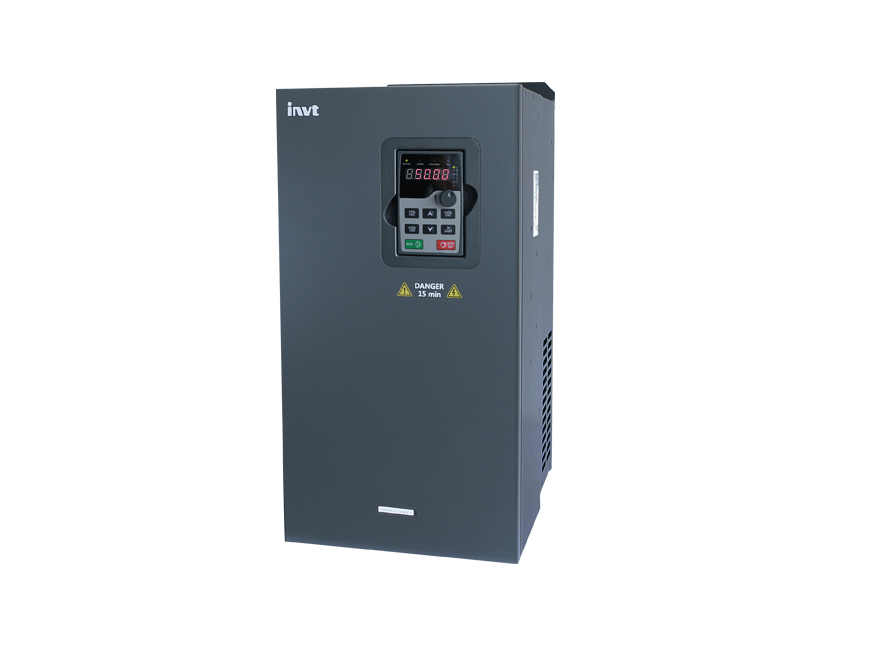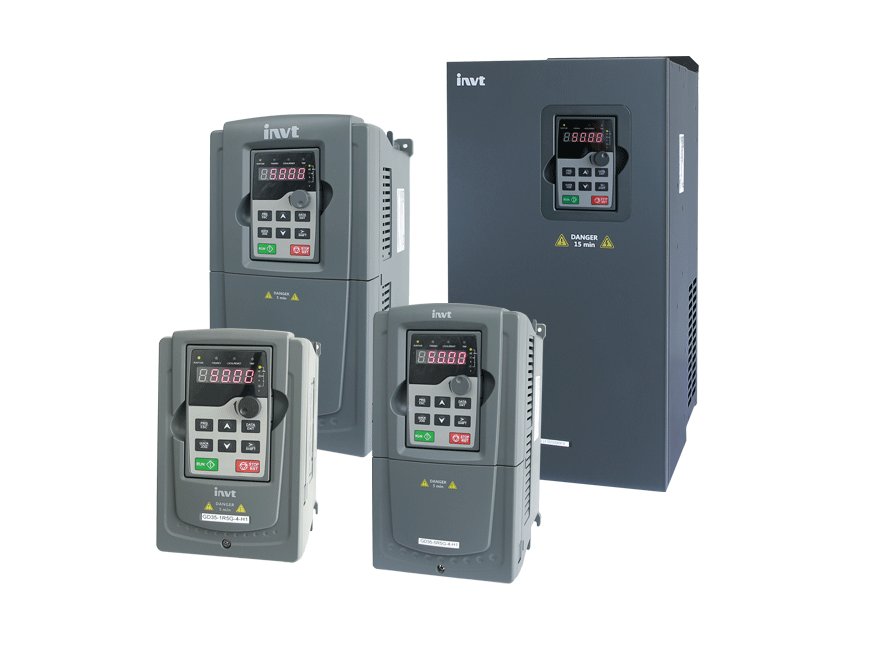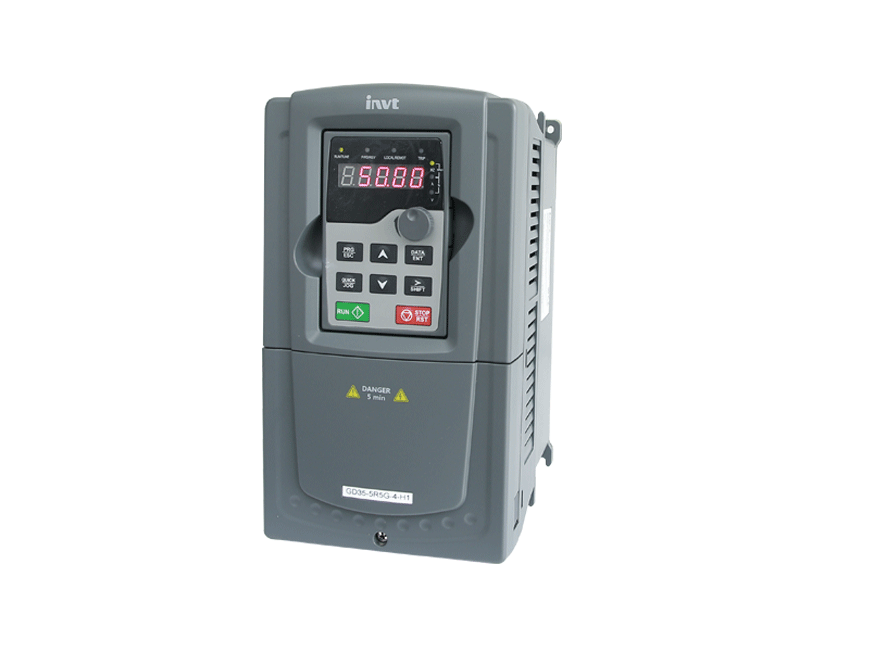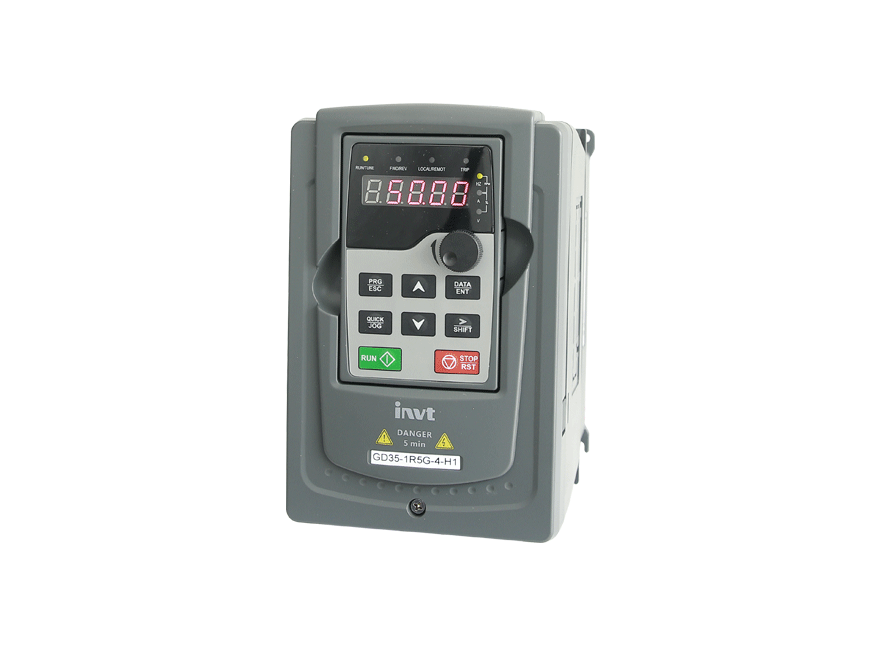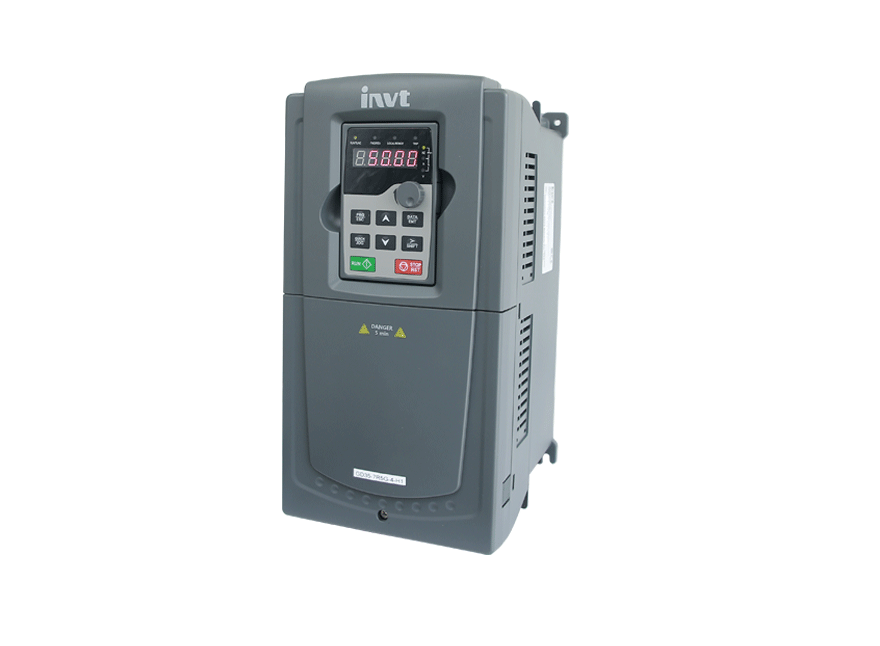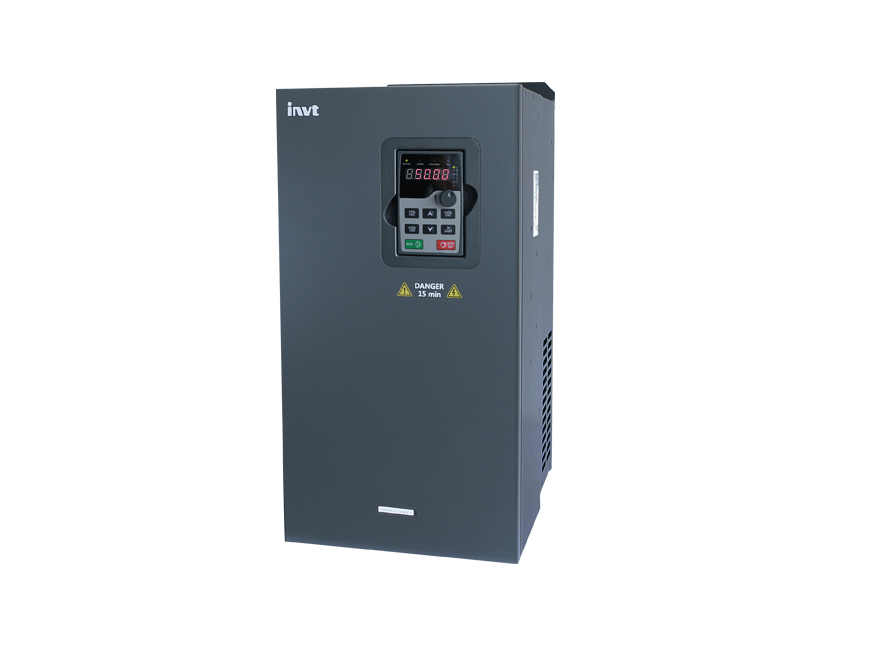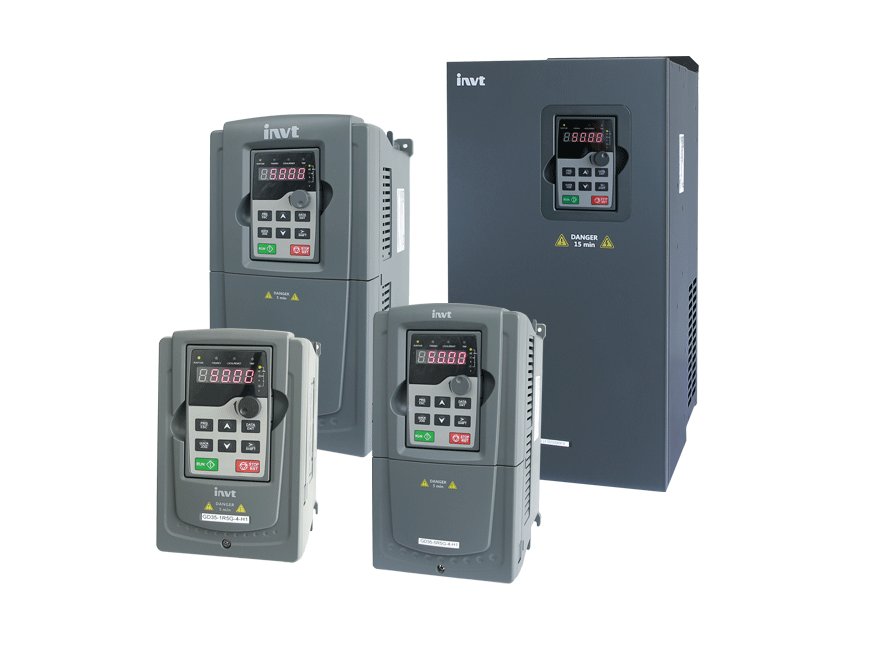 GD35-09 Inverter controls a rotary knife cutter
GD35-09 is a dedicated inverter integrated with a controller for high-speed rotary knife cutting in carton packaging factories, ensuring precise cutting, high response speed, uniform product, beautiful, No defects and high production efficiency.
Free delivery within Ha Noi, Ho Chi Minh, Can Tho
Free installation
| | |
| --- | --- |
| Brand: INVT | Warranty: 24 months |
Specifications
Parameter
Input
Input voltage (V)
 + AC 3 Phase Drives 380V(-15%) ~ 440V(+10%).(1.5~500KW)
+ AC 3 Phase Drives 520V(-15%) ~ 690V (+10%).(22~500KW)
Input frequency (Hz)
 47~63Hz
Output
Output voltage (V)
 0~input voltage
Output frequency (Hz)
 0~400Hz
Motor
Most types of asynchronous motor And Synchronous motor, spindle motors, servo motors …

Đặc tính điều khiển

starting moment
0Hz /200%
Controll mode
 Vectorize V/F (SVPWM),  Sensorless vector (SVC), vector control (VC).
Speed ratio
 1:1000
Overload capacity
60s for 150% rated current; 10s for 180% of rated current; 1s for 200% of rated current
Controller functions
 PID control function, multi-level speed function: 16 preset speed levels, position running, synchronous running, tension control …
Speed ​​control precision
 ± 0.02%, Torque control precision 5%.
Frequency setup mode
Digital, analog, pulse frequency, multi-step speed operation, simple PLC, PID, MODBUS communication, PROFIBUS communicaiton, can realize switching between the set combination and the set channel
Carrier frequency
 2~15KHz
Torque response
 <10ms.
Speed tracking restart
Realize impact-free smooth startup of the rotating motor
 Filter
C2, C3
Dynamic brake
Integrated voltage brakes 380V (≤30Kw).
Communication
 Modbus RTU, Profibus,Canbus, Ethernet.
I/O
Digital input
8 digital inputs that accept ON – OFF value, and can reverse the status of NO or NC.
 Pulse input
1 high frequency pulse receiving input, support both PNP and NPN.
Reference pulse input
Input receiving pulse in position running mode and encoder pulse output.
Analog input
Provide 03 inputs:
+ Input AI1, AI2 can receive input signal from 0 ~ 10V / 0 ~ 20mA.
+ Input AI3 can receive input signal from -10 ~ 10V.
Analog output
Provide 2 outputs:
AO1, AO2 with 0/4 ~ 20 mA or 0 ~ 10V signal, optional
Relay output
 2 relay outputs:
+ RO1A-NO, RO1B-NC, RO1C-Common.
+ RO2A-NO, RO2B-NC, RO2C-Common.
Open collector output
HDO output (ON – OFF output or high frequency pulse output) and Y output.
Integrated pulse encoder feedback
 + A1: Encoder 5V, read 200kHz pulse.
+ B1: Encoder 12V, read pulse 100kHz.
+ C1: Encoder 24V, read 100kHz pulse.
+ D1: Encoder 5~12V, read 500kHz pulse.
+ H1: Rotary transformer encoder, reads 300kHz pulse
Protection function
Protection against incidents such as over current, high voltage, under voltage, overheating, phase loss, phase out, output line breakage, overload etc.
Special functions
Self-voltage stabilization function (AVR)
Automatically stabilizes the output voltage when the supply voltage fluctuates abnormally.
Power saving function
 – The function automatically saves electricity when the engine is overloaded.
– Raises the power factor of the engine
Control brake function
 Dynamic brake, excitation brake, brake DC
Load balancing function
When multiple motors are pulling the same load, this function helps balance the distributed load across the motors by reducing the speed down based on the increased value of the load.
Moment compensation function
Increases the torque characteristic of V / F control when the motor works at low speed.
Functions help the system to operate continuously
Automatically reset the error according to preset times and times
Maintains operation during transient power outages and wide operating voltage range suitable for flickering power locations.
Function of inspection and supervision
Connect a computer to monitor the operation as well as set parameters for the inverter thanks to software INVT studio V1.0, HCM.

10.000+
Customers Nationwide

15+
Year Of Experiences

3000+
Warehouse Area Above 3000 m² Is Always Available Items That Help Customers Fast Project Progress

24h
24 Hours To Complete All Processes, Procedure Is Quick And Flexible
• Integrated control algorithm for rotary cutter application.
• V / F control mode, Sensorless Vector (SVC), Closed Loop Vector control and torque control.
• Precise cutting control to ± 0.5mm with a processing speed of 125 μs.
• Intelligent profile speed control ensures that at the time of cutting, the rotation speed of the knife and the machine speed are synchronous, the cutting product is accurate, beautiful, and the paper edge is not broken.
• S-shaped acceleration and deceleration control ensures smooth and smooth movement of the cutter mechanism.
• Integrated bar cut feature.
• Capable of controlling most different types of motors: AM, ASM, SM, PM, IPM, Servo.
• Suitable for many types of encoders: Push-Pull, Line Driver, Resolver, Sin / Cos …
• Setting parameters for cutting, checking and error reporting are all done on the touch screen, making it easy to operate, monitor and repair.
• Order changes can be done manually or import the excel file directly from a computer.