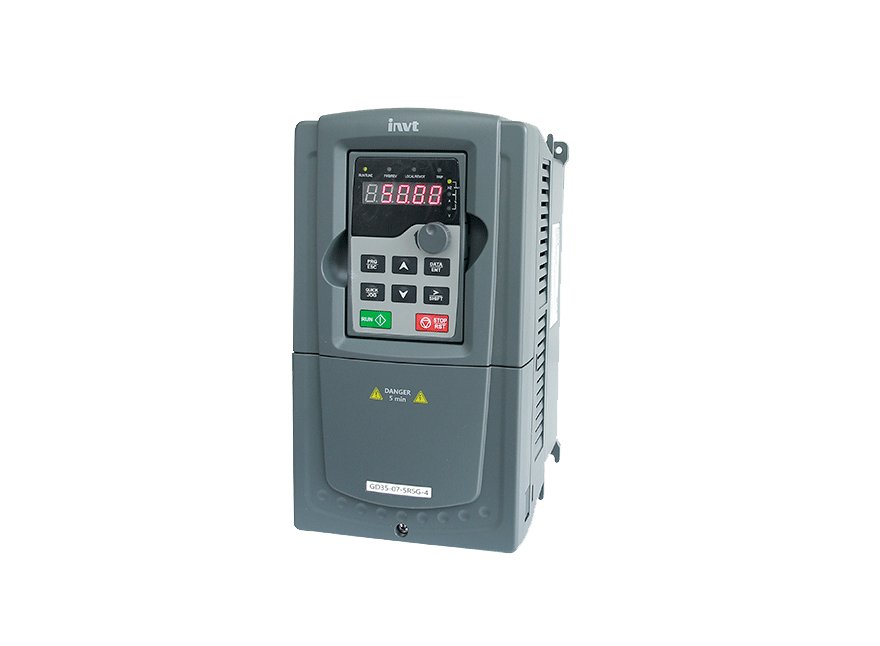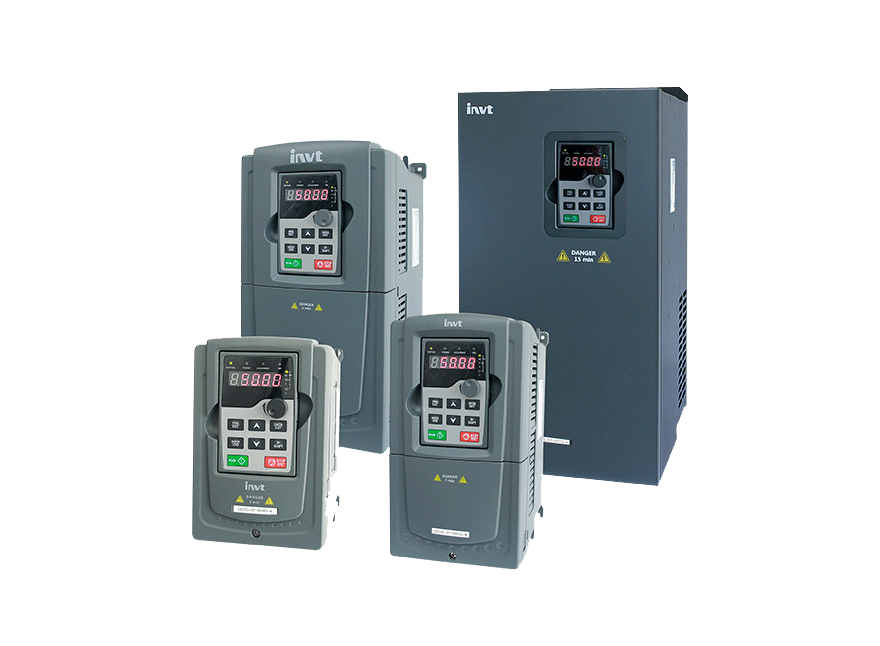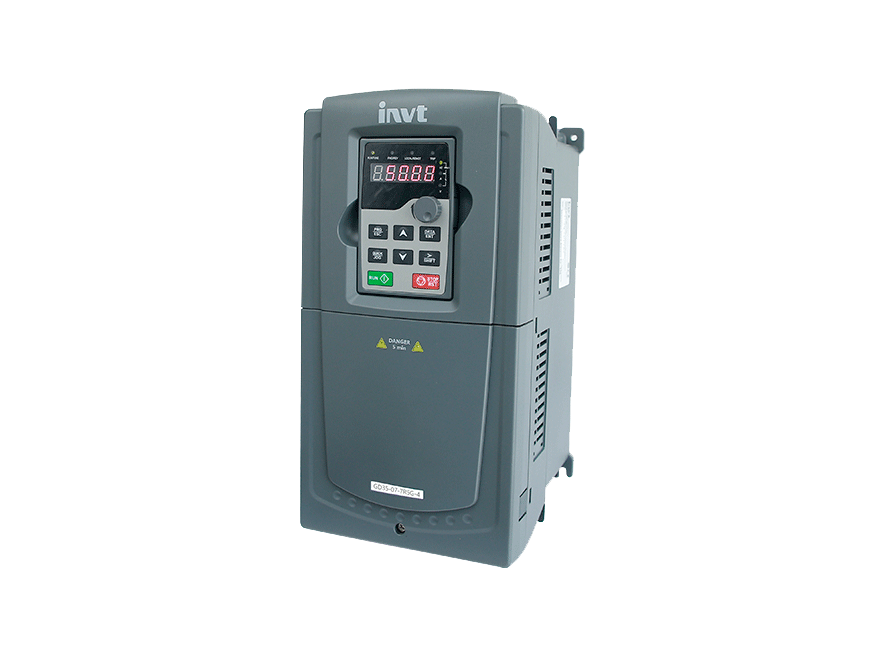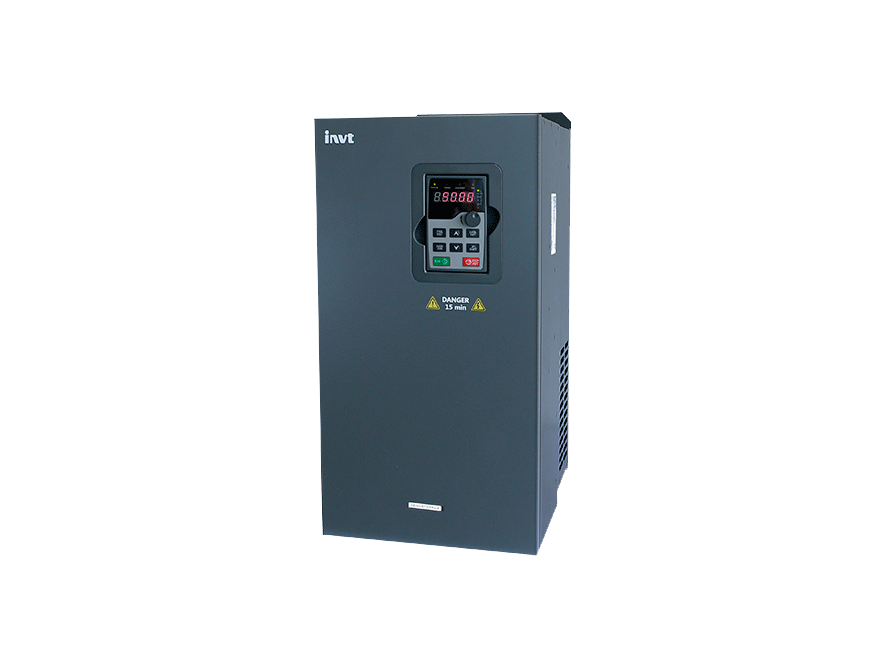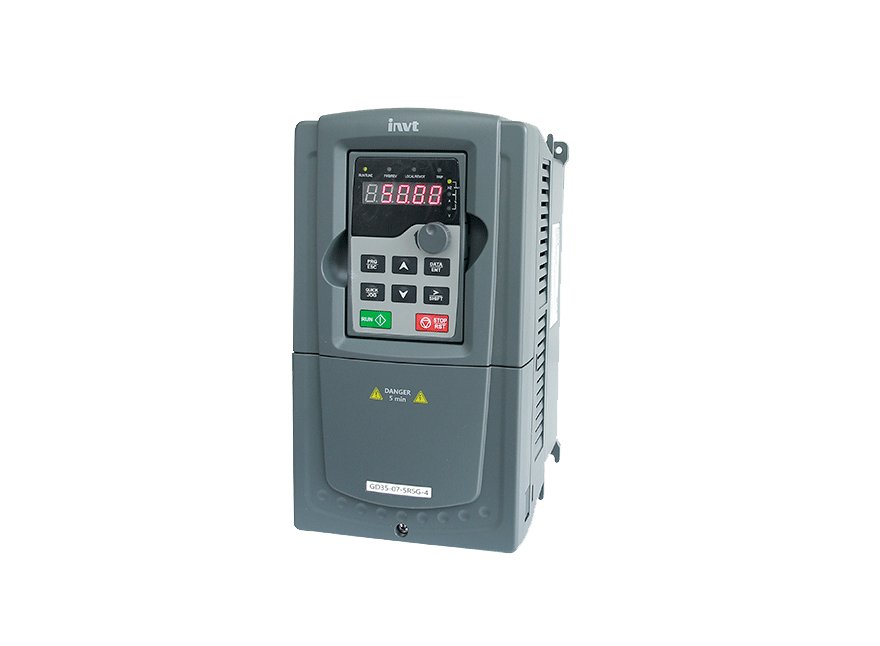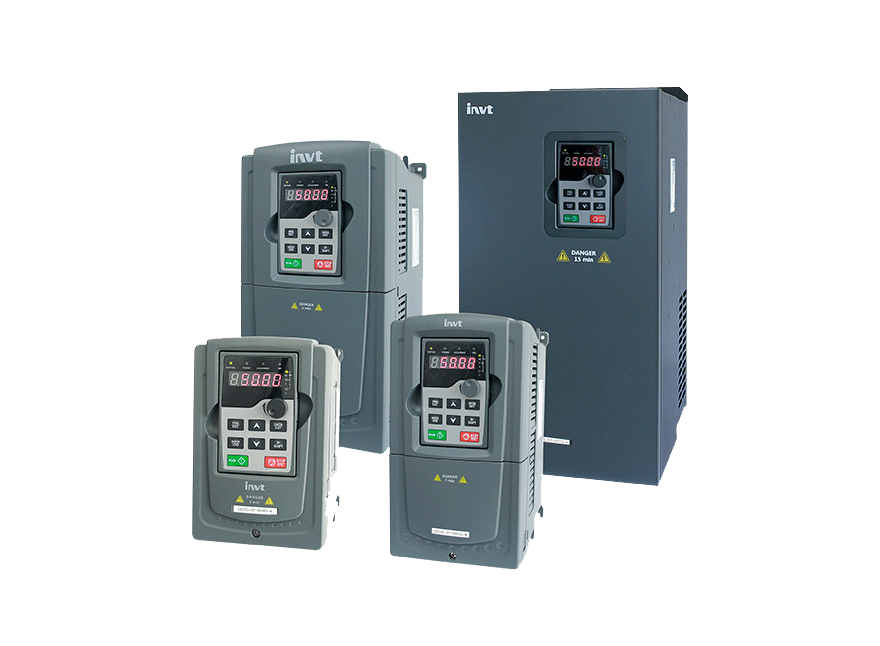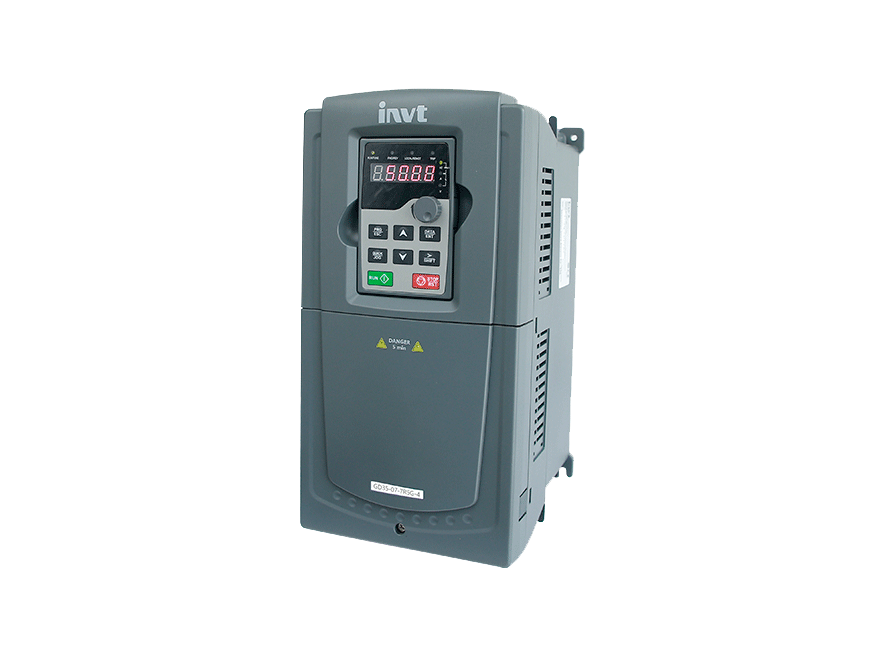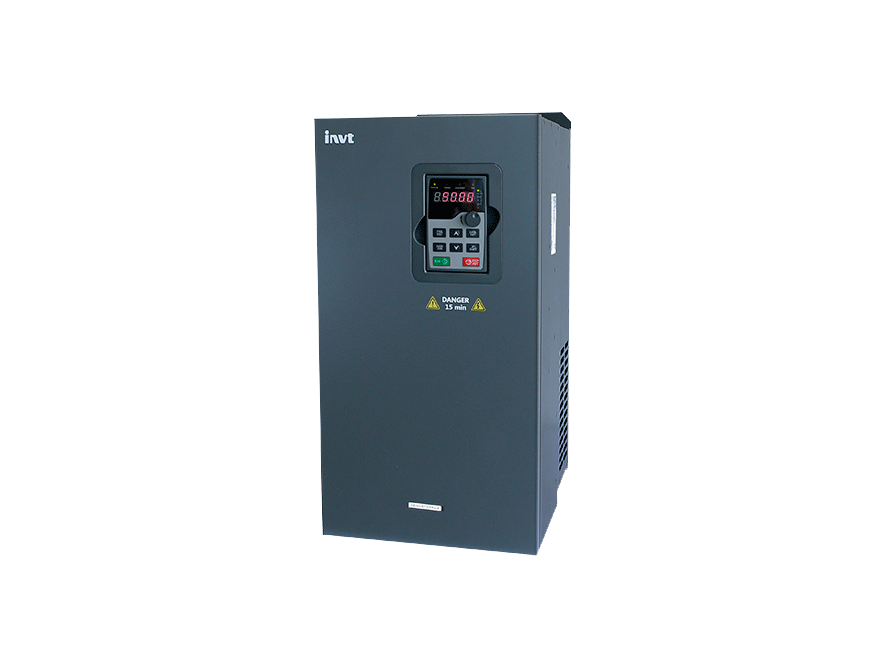 GD35-07 – Inverters special for tension control
As a high-performance close loop vector inverter, Goodrive35-07 inverter special for tension control uses the tension control module in the algorithm, realizing the tension control in the process of wrapping up/off.
Free delivery within Ha Noi, Ho Chi Minh, Can Tho
Free installation
| | |
| --- | --- |
| Brand: INVT | Warranty: 24 months |
Function description
Specification

Capacity range

1.5 ~630KW
Input
Input voltage (V)
+ AC 3Pha 220V (-15%) ~ 240V (+10%)
+ AC 3Pha 380V (-15%) ~ 440V(+10%)
+ AC 3Pha 520V (-15%) ~ 690V (+10%)
Input frequency (Hz)
47~63Hz
Output
Output voltage (V)
0~ rated input voltage
Output frequency (Hz)
0~400Hz
Motor
Asynchronous motor, synchronous motor

Đặc tính điều khiển

Starting torque
0 kHz /200%
 Controll mode
Closed loop control.
Speed ratio
1:100 (SVC).
Overload capacity
150% of rated current: 60s;
180% of rated current: 10s;
200% of rated current: 1s;
Speed control precision
±0.02% of maximum speed (SVC).
Frequency setup mode
Digital, analog, pulse frequency, multi-step speed operation, simple PLC, PID, MODBUS communication, PROFIBUS communicaiton, can realize switching between the set combination and the set channel
Torque compensation
5%
Speed ​​detection function
Smooth start on running engine
Filter
C2, C3.
Communication
 Modbus RTU, Profibus, Ethernet và truyền thông CAN.

I/O

Digital input

8 digital inputs that accept ON – OFF value. 

Max frequency 1KHz, resistor 3.3KΩ with maximum frequency 50KHz.

Analog input

 02 Ports: 




+ AI1, AI2 can receive input signal (0 ~ 10V or 0 ~ 20mA) + AI3 can receive input signal (-10V ~ 10V).

Analog output

Provide 02 terminals:




 AO1, AO2 has 0 / ~ 20 mA or 0 ~ 10 V signal, optional

Relay output

There are 2 inputs




 + RO1A-NO, RO1B-NC, RO1C-common.




 + RO2A-NO, RO2B-NC, RO2C-common.

Open collector output

HDO port: ON – OFF output or high frequency pulse output.




+ Y port: open collector output.

Protection function
Protection against incidents such as over current, high voltage, under voltage, overheating, phase loss, phase out, output line breakage, overload etc.

Self-voltage stabilization function (AVR)
Automatically stabilizes the output voltage when the supply voltage fluctuates abnormally.
 E-stop function
E-stop emergency stop function protects the engine
 Function works during temporary power failure

Do not stop working during temporary power failure.

Function of inspection and supervision

Connect a computer to monitor the operation as well as set parameters for the inverter thanks to software INVT studio V1.0, HCM.
Specialized specifications for tension control

Tension control mode: when user select mode 0 – vector control without PG card (used simultaneously for synchronous motor and asynchronous motor), mode 1- vector control without PG card (simultaneous use of synchronous motors, mode 2 (SVPWM control, mode 3 (closed loop vector control for synchronous motors and induction motors).)




 Tension feedback speed control mode : In this mode, the rotation speed is controlled to perform tension fixation First, calculate the co-velocity frequency according to the long speed of the sheet material (or fiber) and the roll diameter. Its signal the tension of the measured tension and the preset tension put on the closed-loop control PID, and finally ordered adjust the frequency of the inverter.




 How to calculate the frequency at the same speed as follows: f = ( V * N * i) / (π * D)




Where:




      f: Output frequency of inverter




      V: material length




      N: number of poles of motor




      I: mechanical transmission ratio




      D: Coils diameter




 Speed ​​of material obtained from module speed, into the winding diameter is obtained by the value calculated from the module diameter of the plot. To ensure the synchronous frequency accuracy can reduce PID tuning, in order to increase the system stability. In other words, accuracy of long velocity measurement is important.




  Tension non-feedback speed control mode: this mode of GD35-07 is applied in the case of GD35-07 as a Master and the tension feedback signal is not required, the winding diameter is calculate. The speed in this case is constant.




  Torque control mode without tension feedback: (open-loop tension control) tension control is controlled via direct motor torque. The speed changes according to the material's linear speed automatically. The inverter's output torque is calculated by setting tension and winding diameter T = (F * D) / (2 * i)




 Where:




         T: torque set for inverter




         F: set tension




         D: line coil glass




         I: Gear ratio of the




 inverter mechanical can achieve stable tension control effect in the load control mode. Note that if the torque mode is used to control the tension, the moment of inertia should be considered during acceleration / deceleration.

10.000+
Customers Nationwide

15+
Year Of Experiences

3000+
Warehouse Area Above 3000 m² Is Always Available Items That Help Customers Fast Project Progress

24h
24 Hours To Complete All Processes, Procedure Is Quick And Flexible
Control functions: Position running, synchronous running, tension control, multi-level speed, timing mode, PID …
Integrated long-speed stabilizer and feedback tension stabilizer.
Many functions automatically calculate the change diameter of the coil / discharge batch
Self compensation for the moment of inertia and friction of the coil / discharge batch.
Precise control of tension force and material speed.
Self-detection and treatment when material is out or broken.
Powerful communication with Modbus RTU, Pro fi bus, Can bus, Ethernet.
Dedicated function tension control for the fiber industry , printing industry, paper industry …
Main technical properties
V / F control, Sensorless Vector (SVC), Closed Loop Vector Control, and Torque Control
Use for induction motor, synchronous motor and PM motor
Torque starts at 0.0Hz: 200%
Speed ​​control accuracy to ± 0.02%, quick response <10 ms.
Number of I / O ports: 19
Communication: Modbus, Profibus DP
Built-in IEC 61800-3 C3 and C2 Filter, Braking Unit for inverters below 30 kW,
36 functions to protect the inverter and motor against problems such as over current, high voltage, low voltage, overheating, phase loss, phase difference, output line breakage, overload etc.
Compact, sturdy structure. Has its own wind-cooled road, withstands dust and moisture environment
CE conforms to European market standards
Electromagnetic compatibility: EN 61800-3: 2004, 2006/95 / EC
Safety: EN 61800-5-1: 2007, 2004/108 / EC