12.12.2019
Demand-Side Management Solutions for Energy Efficiency Shared by DAT for Enterprises in Tien Giang Province
On the morning of December 11, 2019, DAT accompanied Energy Conservation Center of Tien Giang Province (ECC) to present energy-saving solutions for enterprises in Aquaculture and Textile Industry.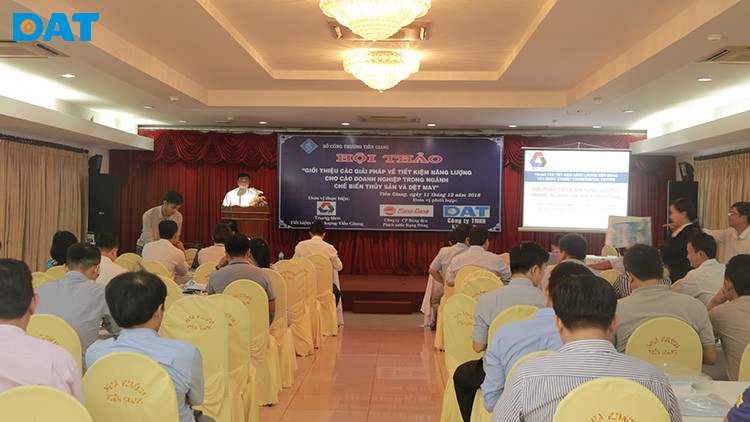 At the seminar, DAT presented and discussed content of Energy Efficiency – Enhancing Production Efficiency through Grid-tied Solar Solutions and energy-saving solutions for businesses through control applications for multi-pump systems, fans, boilers, and compressors.…
The processing of aquatic products and textiles currently contribute significantly to industrial production value of Tien Giang Province. However, many businesses in these sectors still use energy inefficiently, resulting in substantial wastage. Specifically, depending on level of management of factory, type of production line technology, or product form, energy consumption ranges from an average of 194 – 2,358 kWh/ton of products. If appropriate energy-saving solutions are applied, these businesses will undoubtedly benefit greatly.
To help businesses in aquaculture and textile processing industries implement energy-saving measures within their units, DAT introduced some common energy-saving solutions:
Steam Boilers and Steam Systems: To save energy, businesses should prioritize use of GD200A VFD to achieve high boiler efficiency, stable boiler power, and motor protection against phase loss, phase collision, overcurrent, and overvoltage issues.
Lighting Systems: With large spaces, workshops consume a significant amount of electricity to ensure sufficient lighting. Therefore, businesses need to arrange offices and production areas rationally, making the most of natural light. Additionally, use of solar energy should be considered to maximize cost savings in monthly electricity consumption.
Air Compressor Systems: Operating air compressor systems in factories is extremely energy-intensive with low efficiency. Using specialized VFDs such as GD300-01 for air compressor systems helps businesses save 10% – 30% of electricity costs.
Multi-Pump Systems: Using dedicated variable frequency drives like GD300-16 to control pressure and alternate multi-pump systems helps save 10% – 20% of electricity costs for factories, ensuring stable output pressure, continuous water supply, and preventing pressure drops in power lines.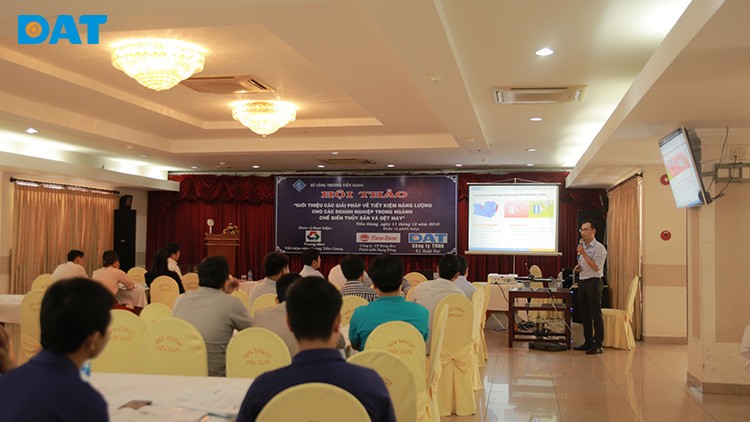 Since 2006, Government has approved National Target Program for Energy Efficiency and Conservation. The Ministry of Industry and Trade and its affiliated departments have been tasked with leading development and implementation of this program.
Accordingly, effective energy-saving measures involve applying technical management methods to reduce losses and energy consumption of vehicles and equipment while ensuring required production goals.
The seminar addressed TCVN ISO 50001 standard – national standard for energy management systems. The purpose of this standard is to help organizations establish necessary systems and processes to improve energy efficiency, including energy performance, use, and consumption. Applying this standard aims to reduce greenhouse gas emissions and mitigate negative environmental impacts.
Delegates and representatives from Aquaculture and Textile Industry raised questions, discussed, and shared their experiences with DAT regarding implementation of energy-saving and efficient energy use programs, creating a vibrant atmosphere.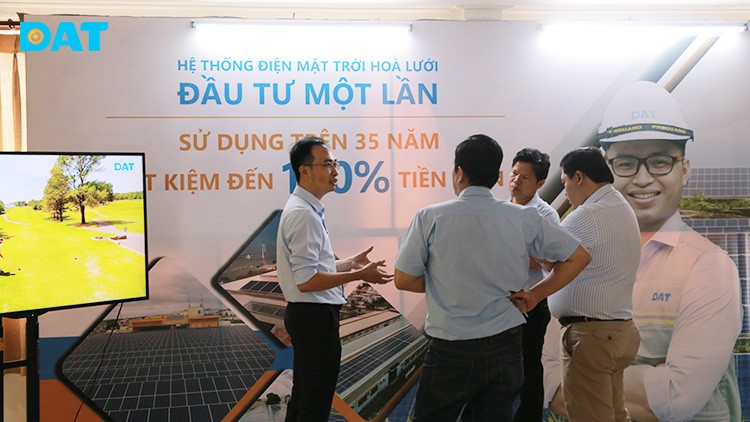 Currently, there are over 14 Energy Conservation Centers in various provinces and cities nationwide, nearly 40 Promotion Centers, and technology transfer and consulting centers. Energy-saving activities have been vigorously implemented at local level, making an important contribution to success of National Target Program for Energy Efficiency and Conservation.