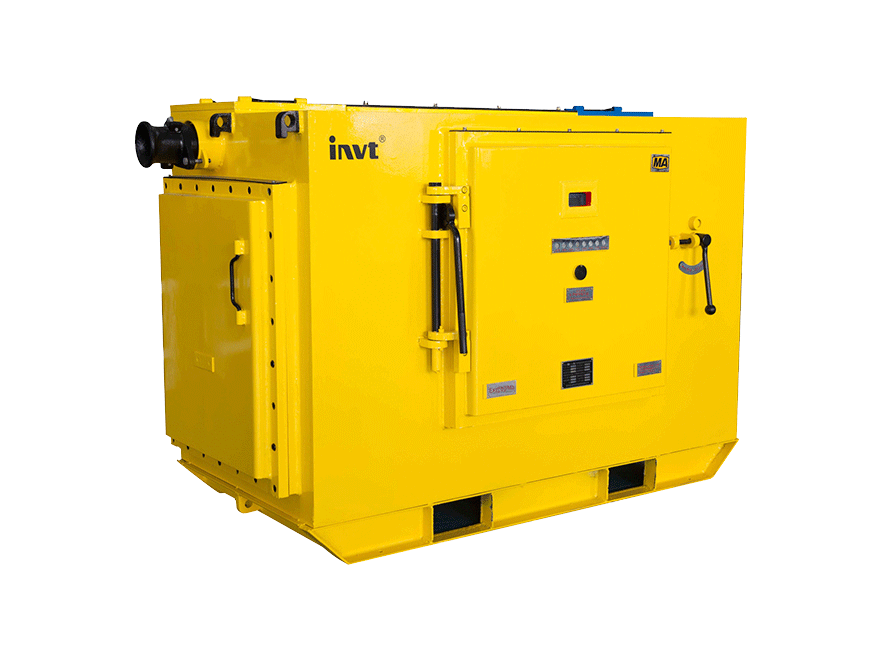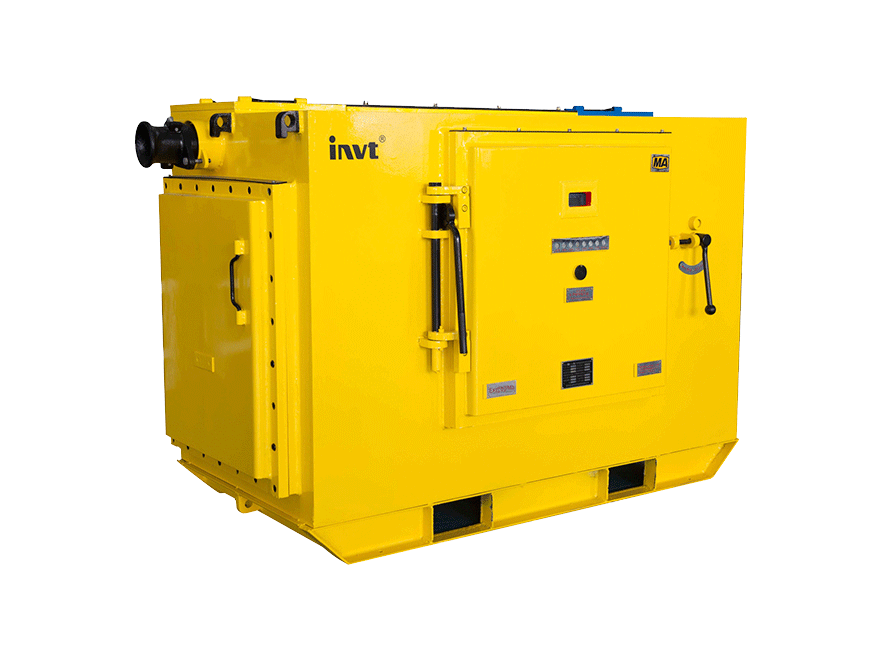 BPJ1 Series Mine – Used Flameproof and Intrinsic Safety Type Converter
BPJ1series mining explosion-proof and intrinsic safety inverter is developedespecially for mining industry based on years of experience of INVT.
Free delivery within Ha Noi, Ho Chi Minh, Can Tho
Free installation
| | |
| --- | --- |
| Brand: INVT | Warranty: 16 months |
Capacity range

55KW~630KW

Input
Input voltage range
– Two-quadrant
+ AC 3 Phase Drives 660V (±15%) (55 ~400 KW)
+ AC 3 Phase Drives 1140V (±10%) (90~630KW)
– Four-quadrant
+ AC 3 Phase Drives 660V (±15%) (185 ~315 KW)
+ AC 3 Phase Drives 1140V (±10%) (250~400KW)
Input frequency range
 47~63Hz
Output
Output voltage range
 0~input voltage
Output frequency range
 0~400Hz
Motor
Asynchronous motor
Controller properties
Control mode
V/F, sensorless vector control(SVC), vector control (VC)
Speed control range
 1:100 (SVC), 1:1000 (VC).
Speed control precision
±0.5% of Max. speed (SVC), ±0.1% of Max. speed(VC)
Frequency resolution
-Digital setting: 0.01Hz
-Analog setting: 0.1%~Max. frequency
Torque boost
Automatic torque boost, manual torque boost 0.1~30.0%
Overload capability
150% of rated current 60s, 180% of rated current 10s
Power balance function
Master-slave communication, droop control
Frequency reference method
Digital reference, analog reference, pulse frequency reference, communication reference, multi-step speed and simple PLC reference, PID reference, etc.
Communication
 Modbus RTU, Profibus, Can, Ethernet.
I/O
 Digital input
8 digital inputs that accept ON – OFF value, and can reverse the status of NO or NC.
Analog input
Port AI1, AI2 can receive input signal from 0 ~ 10V / 0 ~ 20mA.
Analog output
AO1, AO2 ports can output from -10 ~ 10V / 0 ~ 20mA.
Open collector output
1 open collector output (Y)
Relay output
There are 2 terminals:
– RO1A-Common, RO1B-NC, RO1C-NO.
– RO2A-Common, RO2B-NC, RO2C-NO.
Protection function
Protects up to 10 fault codes in case of problems such as over current, over voltage, under voltage, over temperature, out of phase, output line breakage, overload etc.

Special functions

Self-voltage stabilization function (AVR)
 Automatically stabilizes the output voltage when the supply voltage fluctuates abnormally.
Control brake function
 Dynamic braking, excitation brake, brake DC
 Functions help the system to operate continuously
Automatically reset the error according to the number of times and time preset.
Maintains operation during transient power outages and wide operating voltage range suitable for flickering power locations.
 Function timer, counter
 Integrated timer and counter timer to suit different applications.
Function of inspection and supervision
Connect a computer to monitor the operation as well as parameter settings for the inverter thanks to INVT Studio V1.0 software, HCM
Specialized design standards for the mining industry.

Regulations for Coal Mine Safety
Code for Power Design of Mine Safety Inspection Code of Winder for Coal Mine
GB/T 191-2008: Package storage and transportation graphic mark
GB/T 2423.4-2008: Environment test for electric and electronic products-Part 2: Test method: Db: Damp heat, cyclic (12+12h cycle).
GB 3836.1-2010: Explosive atmospheres-Part 1: Equipment: General requirements GB 3836.2-2010: Explosive atmospheres-Part 2: Equipment protection by flameproof enclosure "d"
GB 3836.4-2010: Explosive atmospheres-Part 4: Equipment protection by intrinsic safety "i"
GB 12668.3-2003: Adjustable speed electrical power drive systems-Part 3: EMC product standard including specific test methods
GB/T 14549-1993: Quality of electric energy supply Harmonics in public supply network
GB 14048.1-2006: Low-voltage switchgear and controlgear-Part 1: General rules
MT 1099-2009: Frequency conversion equipment for coal mine MT/T 154.2-1996 Model designation method and management approach of electric appliances for coal mine
MT/T 412-1995: Low-voltage terminals of explosion-proof electrical apparatus
MT/T 661-2011: General technical conditions for electrical apparatus used underground mine AQ 1043-2007: Mining products safety label.

10.000+
Customers Nationwide

15+
Year Of Experiences

3000+
Warehouse Area Above 3000 m² Is Always Available Items That Help Customers Fast Project Progress

24h
24 Hours To Complete All Processes, Procedure Is Quick And Flexible
Leading technologies
Realize the power balance among up to 12 motors;
High-torque, high-precision and high-performance current vector control;
High-precision open loop vector control;
V/f control with selectable curves;
Over 30 kinds of protection functions;
Excellent EMC/EMI performance;
l Safe and reliable
The product strictly follows national standard GD3836 and has passed the rigorous tests and certifications held by Mining Products Safety Approval and Certification Center and Anti-explosion station. It fully satisfies the environment requirements of the underground coal mine.
l Simple and convenient maintenance
Modular structure design makes it easy and convenient to maintain.